Picky landlord, small space, constrained budget?  No problem! 
Creating an inviting, stylish, private outdoor space is easy with these designer-worthy patio apartment ideas. 
If you're ready to transform your outdoor space into an open-air oasis, keep reading for thirteen of the best apartment patio ideas we have to offer. 
What is an Apartment Patio?
A patio is a paved living space outside the apartment house found on ground-level apartments. It's adjacent to the apartment house and serves as an excellent space for entertaining, dining, and outdoor living.
Apartment Ideas Patio
Your apartment patio may be small-sized, dreary, and a little bit drab, but it's your primary connection to the great outdoors. 
It's time for your deck to live up to its potential.
So, put away the barely alive potted plants and broken plastic chairs and create that patio space you'll love all year round. 
Here are some of our favorite ways to spruce up your apartment patio:
1. Use Wood Furniture for Patio Ideas
Approach your deck interior design and keep it simple with classic elements like wood for elegant, simple aesthetics. Wood goes hand-in-hand with patio furniture. Rattan and wicker furniture are popular options in outdoor furniture. 
Therefore, mix and match wood furniture for that Bohemian look on your small balcony.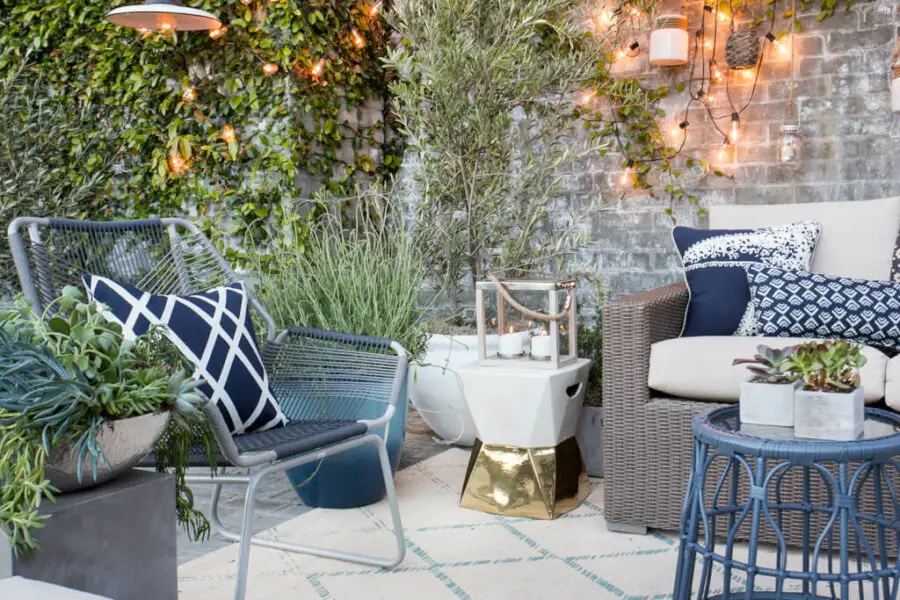 2. Experiment With Hanging Candle Holders
Candlelights represent relaxation, romance, peace, and serenity, just to mention a few. Candles present an elegant and easy way to access our primitive attraction to flames.
Therefore, create a more inviting outdoor dining table by adding a hanging candle holder dressed with faux greenery.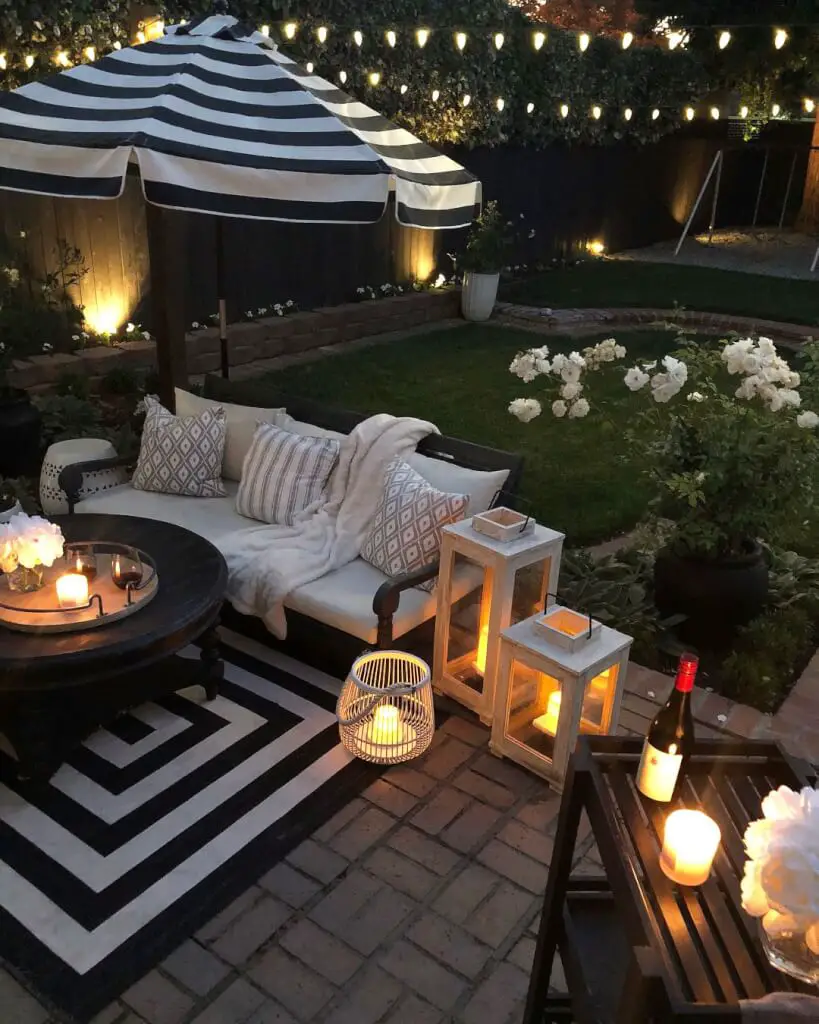 3. Install Privacy Screens
Privacy is a crucial element when coming up with patio designs. There are constant reminders that your neighbors are just a few inches (or feet) away. Putting up a privacy screen reclaims your patio as a comfortable outdoor space.
If you live in a cold area, you could consider using faux leaves in place of the privacy screen. 
4. Go Minimalist
If you're short of patio design ideas, get some inspiration from the minimalist home decor. Minimalist designs go hand-in-hand with modern trends. Additionally, you can combine minimalism with Bohemian, classic, or contemporary decor.
In minimalism, ditch unnecessary furniture. Also, resist the urge to add lots of decorative items – at most, two things suffice.
5. Create Your DIY Patio Ideas
Living in a rented apartment means your hands are tied when it comes to bringing your favorite deck ideas to life. Therefore, making temporary improvements to your deck's design personalizes the space.
Create personalized items to add to your patio space. It could be wooden items, rugs, or even potted plants to liven up your deck.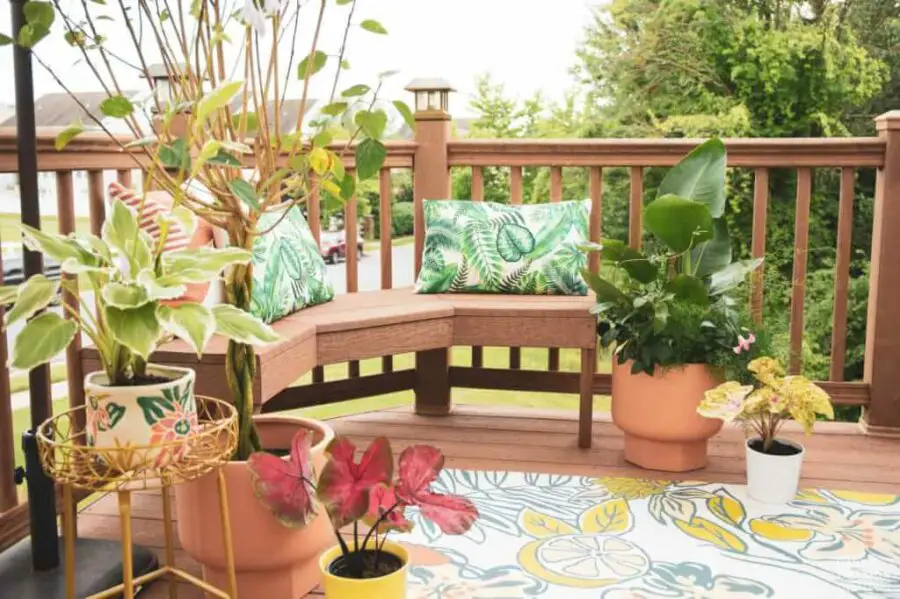 6. Add Furniture for Apartment Patios
If you're not into traditional patio furniture, you can find tons of tables, chairs, and an outdoor sofa that belong to the standard living room. Furniture that doubles as a table is a must. A lounge chair and foldable coffee table are perfect if you don't want to fill up the patio space.
With the proper setup, you can convert your patio from an outdoor working space to a private escape. 
7. Create a Small Garden in Your Patio 
For those who love the greenery, an apartment patio is a space to implement your garden ideas while you live in the apartment. Have a large potted plant fill up an unused corner in the deck. 
Additionally, place the plants on wall-mounted containers and shelves. Train vining plants up the wall, along the balcony railing and trellis for added privacy. 
Although you're hesitant about decorating your small patio space, a few personalized touches might be what you need. Therefore, potted plants are an excellent choice for a customized touch.
Why? Because green foliage matches with everything. 
If there's lots of direct light on your balcony, you can fill a planter with succulents. Also, having tall plants provides a dose of privacy and shade.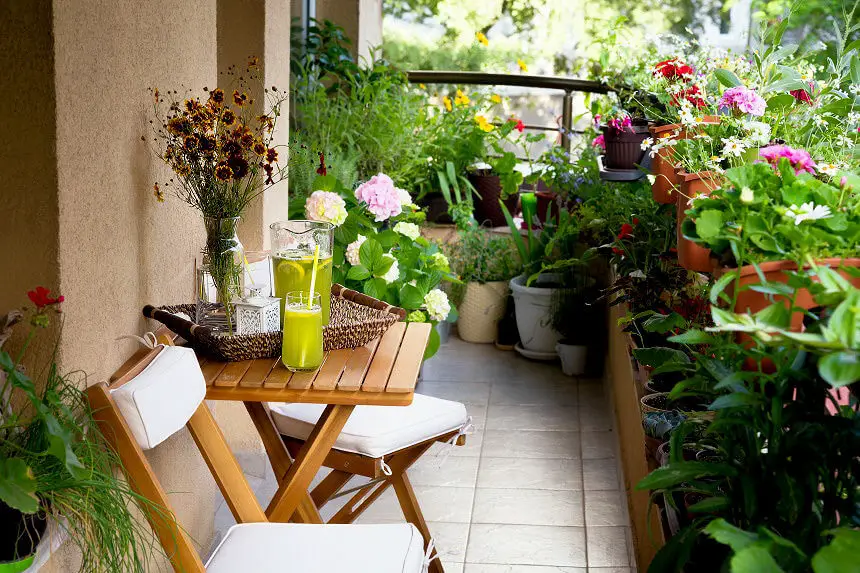 8. Design the Patio for Specific Purposes
We often use the terms balcony and patio interchangeably, but they're two different things. Patios are on ground-level and can be higher up. On the other hand, a balcony is above ground level. 
Thus, no matter how big or small, treat your balcony as an extra room. Decide the space's primary purpose and create a design around the ideas. 
Will the balcony serve as a private study nook? Or do you want a place you can enjoy dinner when the weather allows? 
Invest in suitable furniture. If you can design a balcony that serves more than one purpose, the better. 
9. Paint With Rich Hues
Use bold colors to add some drama to your apartment patio. Think about placing a temporary cover or painting a rich, dark color for a trendsetting and eye-catching effect. 
Deep colors such as dark chocolate, charcoal, and navy blue bring out your home's best details.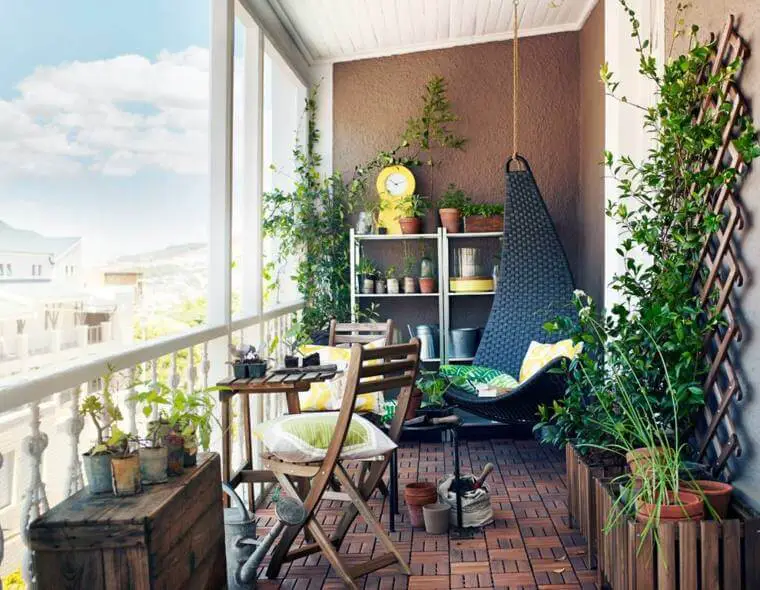 10. Make the Colors Match
Small spaces can quickly become cluttered spaces. Cut down on the visual clutter using a matching patio set.
Pro Tip: It allows you to add fun ideas where it counts – like using throw pillows and other necessary accessories while still maintaining visual clarity. 
11. Try Built-In Benches
If your patio has railing and long walls, you have more space than you think. Place some benches against them as an excellent way to incorporate overflow seating for more significant gatherings. 
When creating a custom built-in look, paint the wall and seating space with the same color for aesthetics.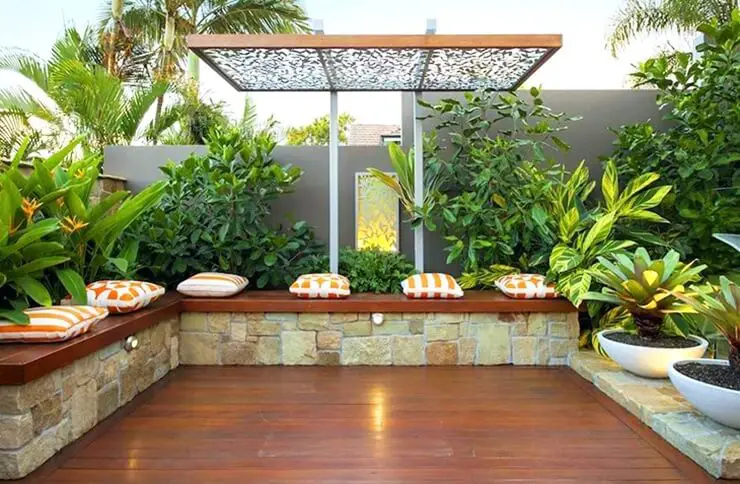 12. Lay Outdoor Rugs
Do you enjoy the feeling of your bare feet on splintery wood or hot concrete? We don't think so. 
That is why you need to add a few outdoor rugs as part of the decorating ideas to make your patio a more pleasant place for your feet. 
Why?
Because rugs provide comfort and personality to a drab concrete floor. Use durable rugs designed for the outdoors, or use those made from natural materials like jute.
13. Add Some Gold to Your Color Scheme
Gold accents take your understated apartment patio furniture to a whole new level. They add a pop of luxe without looking tacky. Also, it is best to use a trusted bottle of matte gold spray paint on the DIY project.
Use the gold accents on hardware and other accessories for that cohesive but not overwhelming look for the best outcome.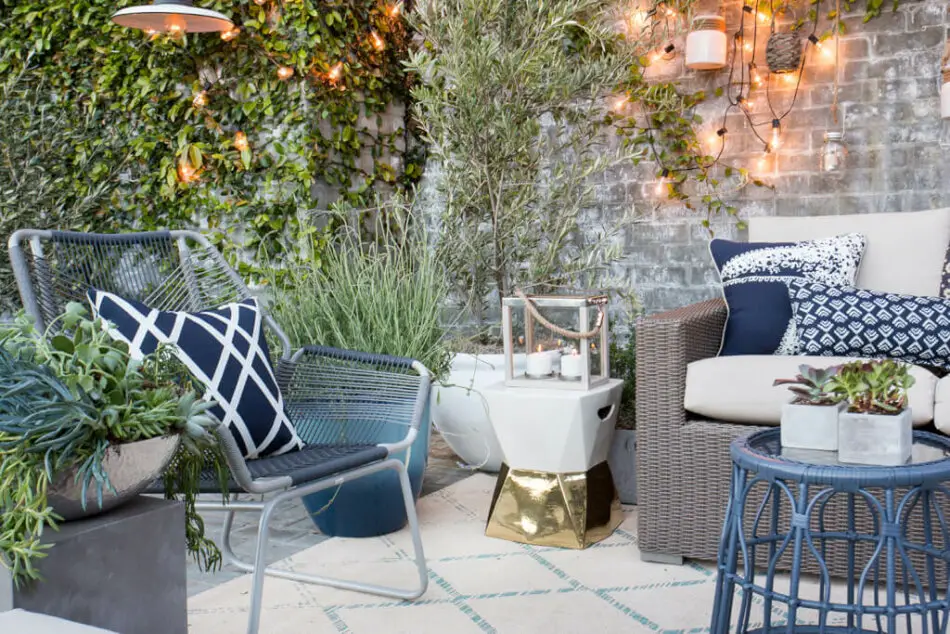 FAQs
How Do I Cover a Small Apartment Patio?
If your patio area lacks privacy, voluminous or upright plants (think: decorative grasses, shrubs, and bamboo) can help create a more intimate place.
Umbrellas, hanging planters, and wall dividers are great ways to cover your space.
How Do You Build a Patio Apartment?
Here's how to build a patio apartment:
Install outdoor furniture
Put a screen
Design a personalized bistro vibe
Design a cozy oasis
Paint the deck floor
Add more vibe with outdoor rugs
Have more lighting
Install a game room for the outdoors
How Can I Make My Apartment Balcony Nice?
Balcony ideas and decor inspiration:
Include a table
Install built-in seats
Add plants
Incorporate pillows 
Take advantage of the wall
Add  string lights
Incorporate a hammock or chair
What is a Covered Patio Called?
The word pergola is used interchangeably with patio cover. 
How Do You Design a Pet-Friendly Patio?
If your apartment is pet-friendly, the patio is an excellent place to give them fresh air. Install panels or screens to block gaps on the patio railing to keep the pet from climbing over.
Also, always accompany your pet to the patio no matter how pet-proof you think the patio is.