A garden's most overlooked element is superb edging. Your garden will appear well-groomed and charming with excellent modern garden edging ideas.
Check out the following brilliant edging designs, guaranteed to give your garden a neat and modern look.
1. Sea Shells
Large shells, like quahogs, are perfect for a truly mesmerizing garden border. The unmistakable contrast between the seashells and garden beds is bound to turn every head.
Bigger shells can form a wall on their own, while you can crush smaller ones for a rock-garden appeal.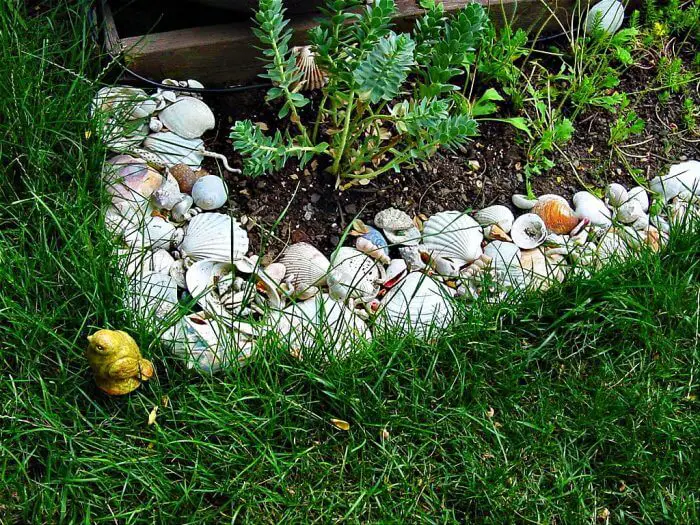 2. Bowling Balls
Another creative garden edging idea is using old bowling bowls. Bowling balls come in an exciting array of colors to make your garden edging look vibrant. 
The attractive spherical design makes for surprisingly dazzling edging materials.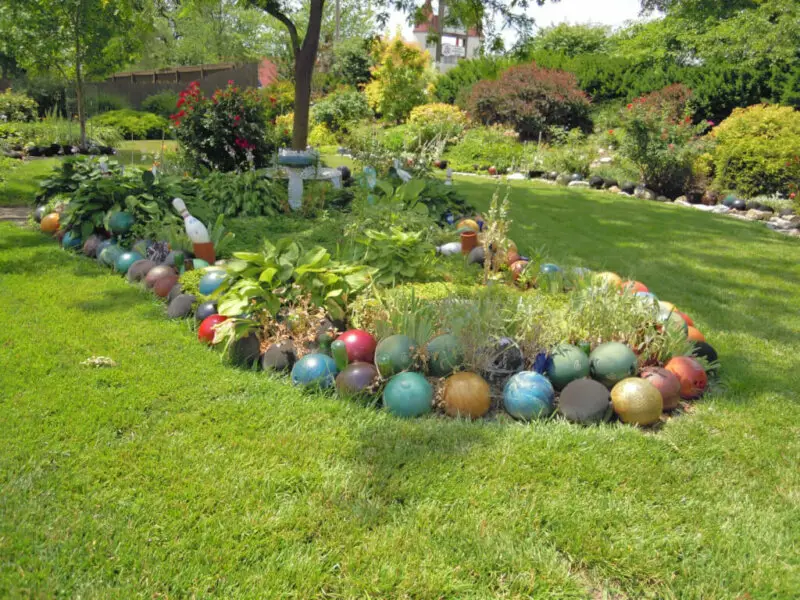 3. Upside-Down Wine Bottle Edging
If you are a sucker for easy DIY edgers that border on genius, then go the wine bottle way. Take old wine bottles and stick them upside down in the ground along the edge of your garden. 
For a more unique look, use different colored bottles. Moreover, you can put mulch or pebbles in the bottles for a textured look.
4. Bricks
Bricks are probably the most conventional garden edging choice, and the popularity is justifiable. Bricks define garden edges superbly; they can endure any weather, and their look complements any environment.
Also, they are long-lasting, and they involve very minimal work and maintenance.
5. Cinder Blocks
Using cinder blocks in your garden is a convenient idea because their structure makes them ideal as edging materials and as planters.
As you line the cinder blocks along your garden's edge, you can also plant your favorite border plants or flowers in them.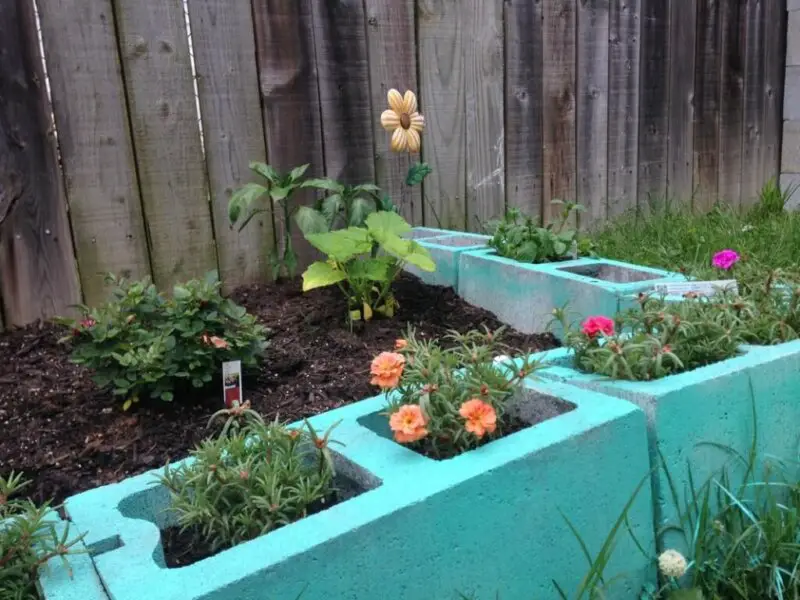 6. Terracotta Pipes
Like cinder blocks, terracotta pipes are a favorite among gardening enthusiasts looking for modern garden edging ideas. You can use terracotta as planters, in addition to using them as edging.
Moreover, terracotta pipes complement any pots and vases in your garden.
7. Landscape Timber
If you love natural edging concepts for your garden, then landscape timber should be right up your alley. They are a cost-effective edging option and blend easily with your plants and flowers.
Most importantly, landscape timber is an affordable and long-lasting edging option.
8. Potted Evergreen Plants
If your outdoor space lacks charm, then a simple wooden or brick edge may not do the trick. This is where rows of potted plants come in handy.
By using rows of decorative evergreen plants, your edging will look vibrant and flourish all year round.
9. Woven Willow
Also referred to as wattle, the woven willow is a great landscaping/garden edging idea. The woven willow's natural edge is a dream come true for country gardens.
To achieve this rustic look, weave sticks and natural logs together. You can never go wrong with this option if you have a vegetable garden.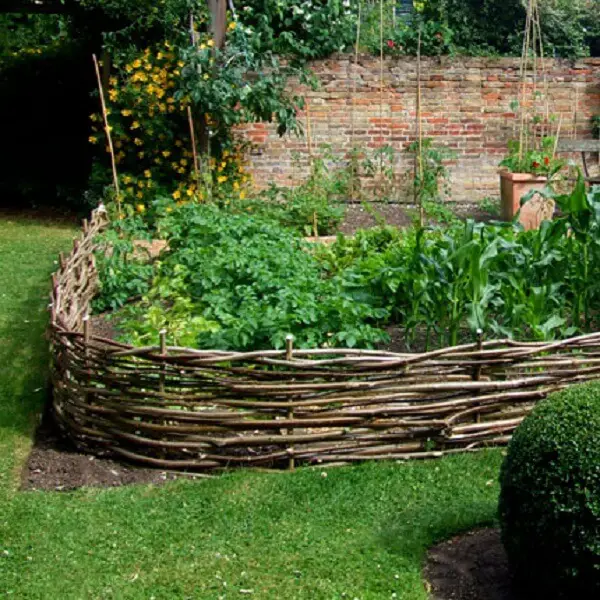 10. Stones
Stones are a great choice as far as front yard landscaping ideas are concerned. There's a fantastic repertoire of differently colored, shaped, and textured stones at your disposal. All you have to do is choose your favorite stone type and create your garden edging.
Moreover, if you use massive stones, there's not much effort involved since all you have to do is line them to create a 'wall' effect.
11. Wood Logs

Using logs for edging is a much-loved and environmentally friendly DIY edging option. Get some logs and lay them along the edge of the garden. You can lay them either vertically or horizontally.
Log edging is a natural look that's perfect for rustic gardens.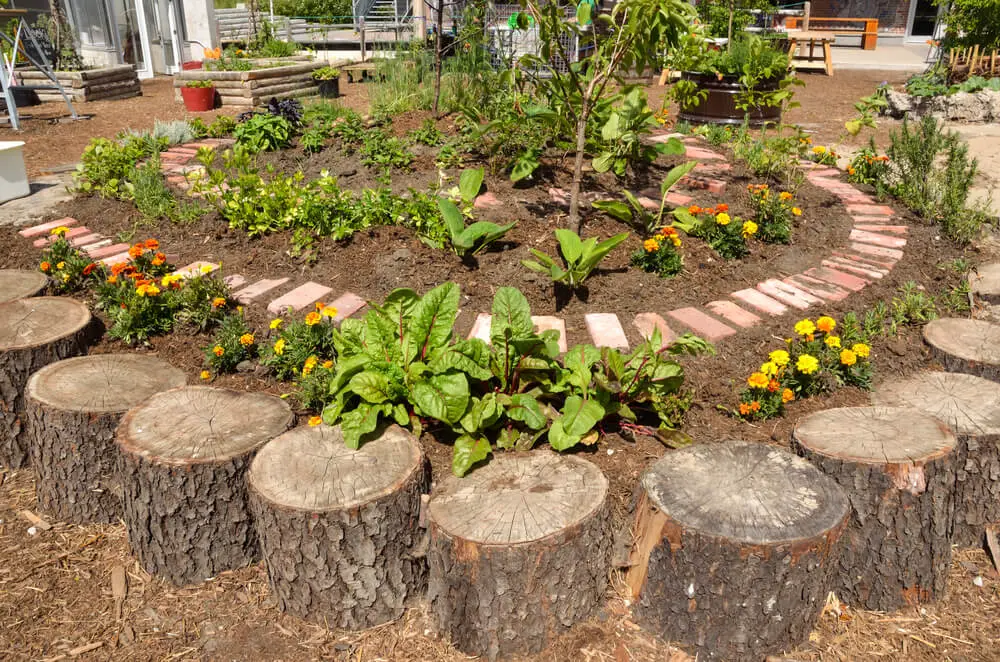 12. Gabions
Originally, gabions meant 'big cages'. They rank highly among spectacular modern garden edging ideas. If you need a modern way of enhancing your property's curb appeal, then gabions are the way to go.
These wire cages are a timeless and ingenious method of creating a border around your garden. While you can use a variety of fillers for the gabions, stones are the most preferred materials.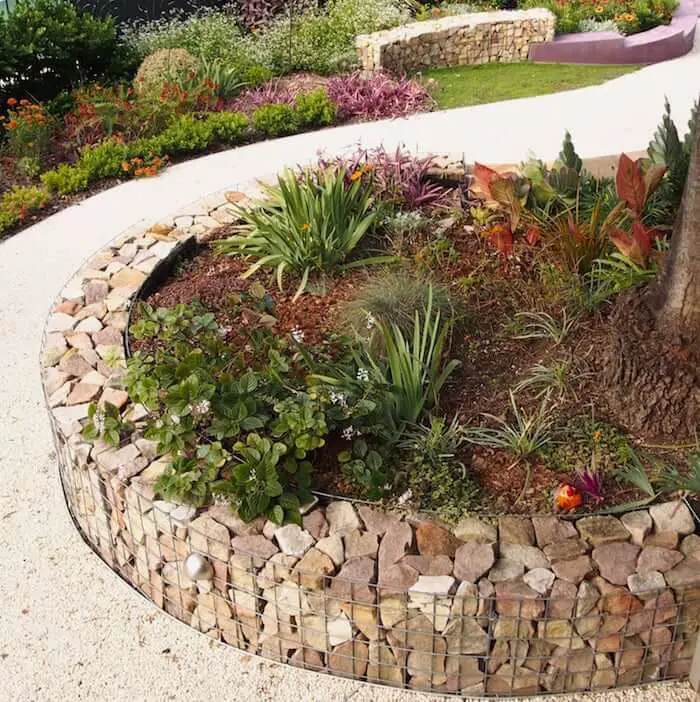 13. Black Plastic Edging
In case you're cringing at the very idea of plastic in your garden, cast your fears aside. There are plastic edging materials manufactured from 100% recycled plastic.
This material is not only affordable but also simple to lay down. The trick is to bury most of the plastic to draw attention to the flowers and plants.