Why do homeowners spend so much time and effort on something so simple as lavender gardens? 
The answer: lavender does wonders for your spirit and can help treat anxiety and depression, among many other things. 
Say goodbye to dull brown and green lawns and gardens. There are several surprising small lavender garden ideas to make your home or garden more colorful.
Whether you are going for a border, hedge, or sloped landscape design idea, you can spruce up your garden in no time.  
Interested?
Look no further than this handy compilation of 7 lavender garden design and landscaping ideas.
Hedge
Garden Path
Border
Fences
Landfiller
Sloping Garden
Flower Garden Beds
1. Lavender Hedge
A lavender hedge adds an elegant touch of color to the landscape. 
You can grow lavender hedge both in your front yard and backyard.
You could also consider planting a simple DIY herb garden and use lavender as the hedge. 
Wherever you place it, the lavender hedge will serve as an attractive focal point in your large yard. Lavender plants are also a great way to brighten your whole garden.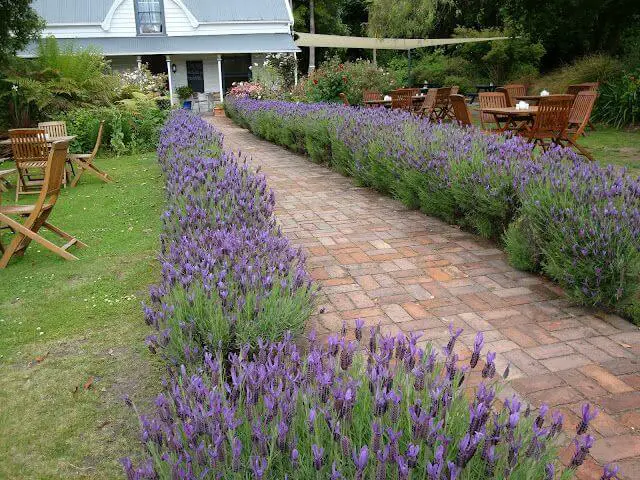 2. Lavender Garden Path 
A garden path can be a bit of an oddity, but it can also be one of the most peaceful spaces on your property. 
The delicate lavender scent is earthy and calming. It is not surprising that it is popular in aromatherapy, bedding, and decor. 
Many gardeners decide to plant lavender along their garden path as a gentle way to welcome guests to their homes. In addition, plant lavender near the garden path so that it brushes your feet and leaves its scent behind when you walk.
Despite the common idea that it will be in the way, it adds value and interest to any garden setting. Lavender garden path works best as a welcoming, decorative addition to your garden path.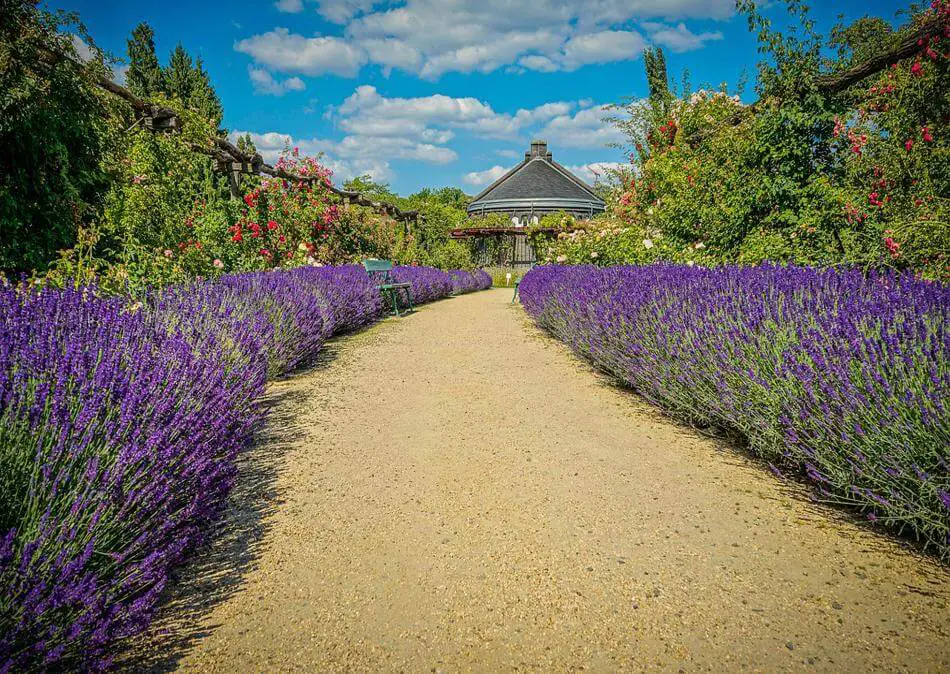 3. Lavender Border
Border plants reach up and out, illuminating garden borders without the need for pots and moving parts. 
The lavender is easy to care for, and its loosely bulbous nature allows it to grow in many different conditions. The plant adds its lovely scent to your garden, and you can even use it as a frontline defense against the bugs that irritate your face.
Also, lavender flowers are far less intrusive than your other shrubs.
Most importantly, border landscaping with lavender is a great way to brighten up your garden without spending a ton of bucks.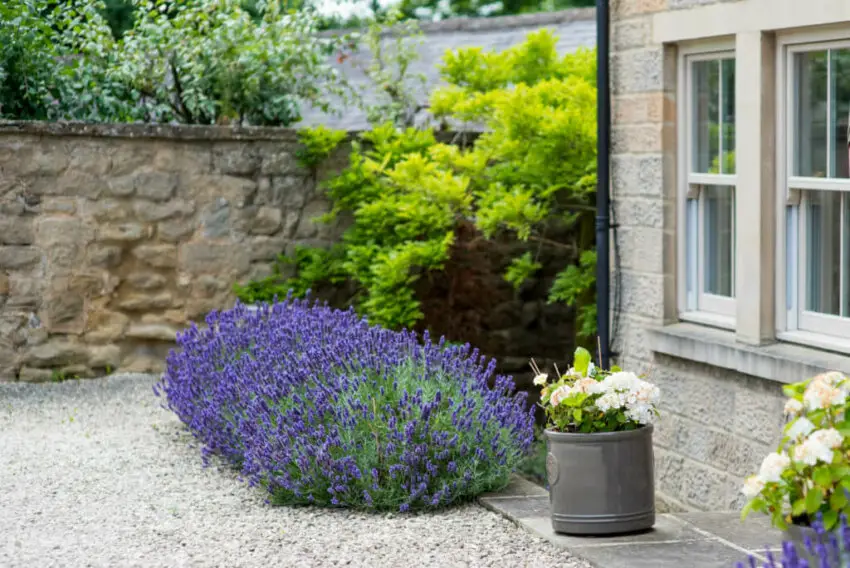 4. Near Fences
Have you ever wondered why so many homeowners plant lavender along fences? 
The lavender scent repels insects, such as mosquitoes and deer. Also, lavender is said to have a positive effect on your mood.
Best of all, lavender is not hard to grow outside of its ideal conditions; it is very low-maintenance. You can also mix and match it with other plants, bringing an eclectic look to your near fence garden. 
Its blue flowers will stand out against other plants and create a beautiful yard. Also, this herb is drought tolerant and does not require much maintenance.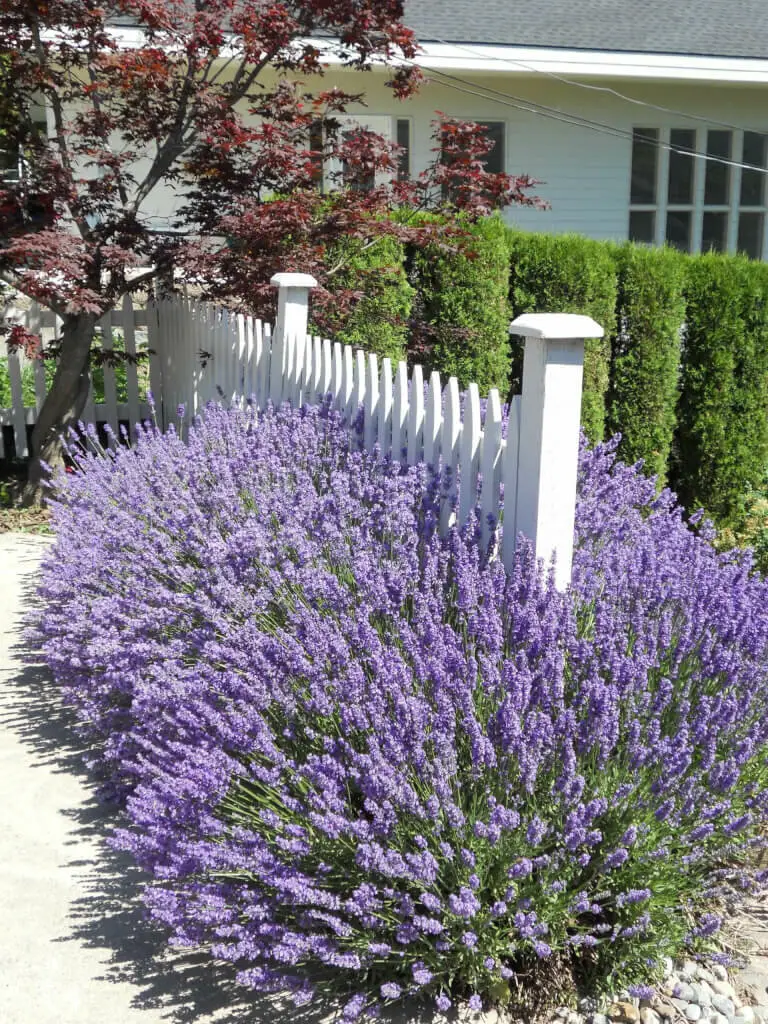 5. Landfiller
Landfilling plants are a popular choice for gardeners. Lavender is an excellent choice because of its attractive flowers and its ability to create a soothing smell. 
But why should you plant lavender as a landfiller? 
With the landfiller garden design, lavender's flowering buds attract various insects–wasps, hornets, and bees, who then transfer pollen from one plant to the next. 
So you're simply spreading your plants and helping the next generations of lavender to thrive.
When planning landfill lavender garden plants, consider the type of lavender you want to grow.
English lavender is an iconic variety and will grow well anywhere. It requires less water than other varieties and does not mind a little moisture. French lavender is another worthy consideration.
A smaller variety is more manageable, and it will look great while giving you a mix of flower color and fragrance.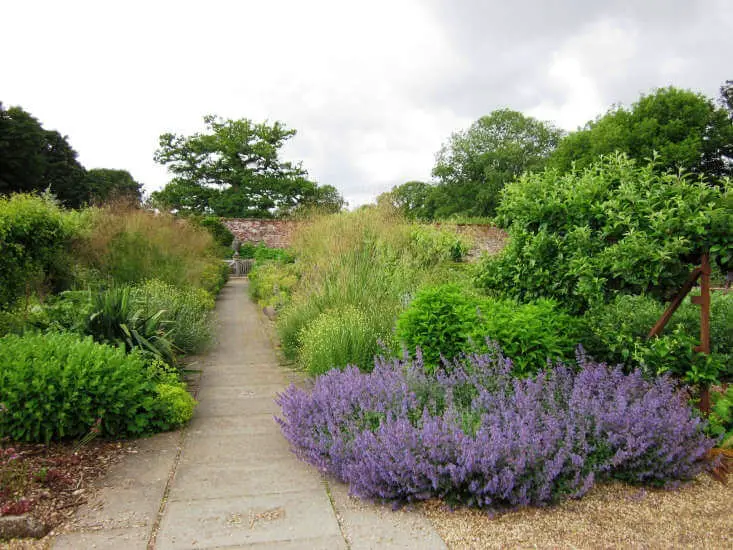 6. Sloping Lavender Garden 
The point of lavender landscaping is to make space look amazing and well thought out; the whole point of lavender is to create a mood. 
Sloping is a relaxing and therapeutic way to extend your outdoor living space while giving your garden a WOW touch.
Also, a slight sloping garden is an easy way to add easy-care greenery, powerful fragrance, and soothing color to your garden.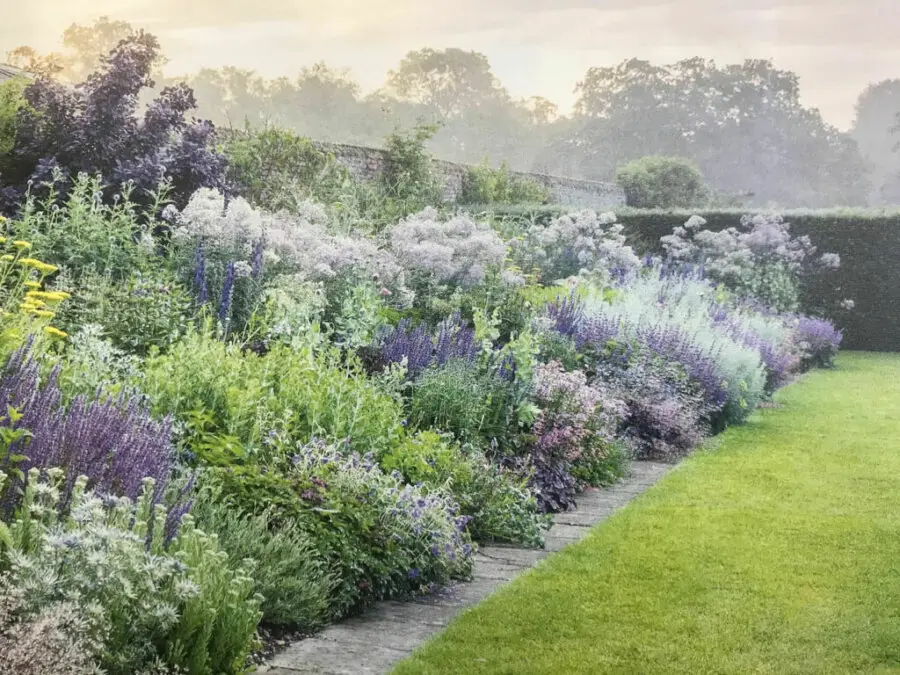 7. Flower Garden Beds
Ah, the famous lavender flower bed! One of the excellent small lavender home garden ideas is a garden with a bench under the lavender and a sunny outlook to create a soothing atmosphere. 
It doesn't take much to make your outdoor space look gorgeous – just a few lavender flower bed ideas, and the area will soon be overflowing with color.
Well, having lavender in your garden is not only a sensory delight, but it also helps provide calm and serenity. The idea is to combine lavender varieties to yield various colors and aromas.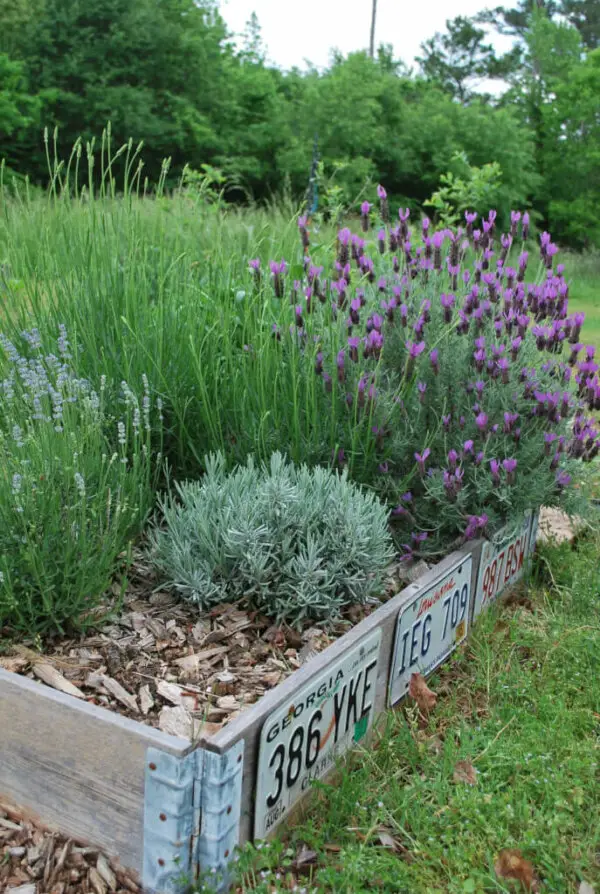 What You Should Know About Lavender

Which plants look good with lavender?
We recommend planting grape hyacinth, lobelia, and salvia. 
They compliment the lavender beautifully, and you'll have a great space and blooming garden. Also, make sure to pick strong plants with lots of – they are the best at holding on to the soil.
What is the best time of year to plant lavender?
Most gardeners recommend planting in the spring or fall. There are exceptions to that rule, such as plants that require particular environmental conditions, but that's the time for optimal growth for most aromatic plants.
What are the benefits of lavender in the garden?
Lavender is a Mediterranean plant that embodies old-world wisdom and modern research. It is often soothing and comforting to humans, animals, and the earth alike. A Spanish lavender offers unusual blooms.
Besides giving us beautiful gardens, lavender offers a degree of nostalgia, as well as repelling pests and attracting natural pollinators.
Also, it has a bajillion health benefits, including anti-inflammatory, anti-nausea, and anti-depressant effects. Also, lavender acts as a ground cover.
What type of soil is best for lavender?
Soilless plants like lavender need a good rich soil with plenty of humus. They thrive in light, fertile ground with good drainage. 
If you have a hard time keeping your soil moist, add a layer of finished compost. You can also introduce a layer of mulch to keep the soil cool and moist.