Always fancied a backyard pool, but you don't have the massive outdoor space or bottomless budget you think you need?
Owning a pool is easier than you think, with unique backyard pool ideas on a budget. The good news is that you can always find a pool design that matches your budget and small backyard. 
Also, a small budget doesn't necessarily translate into a dull and uninspiring pool. 
Whether you prefer an above-ground pool or it is an in-ground pool that catches your fancy, we've got you covered with these budget-friendly pool design ideas.
1. Fancy an Underwater Mosaic?
Wouldn't you love a swimming pool that will wow your guests?
You want to go the whole nine yards to have a swimming pool that makes a style statement. And what better way than underwater murals or mosaics? They will add lots of character to your ground swimming pool and outdoor living area.
What's more, you can add glow-in-dark tiles to the pool!
Just talk to your pool installation service for tailor-made underwater pool mosaics for your pool.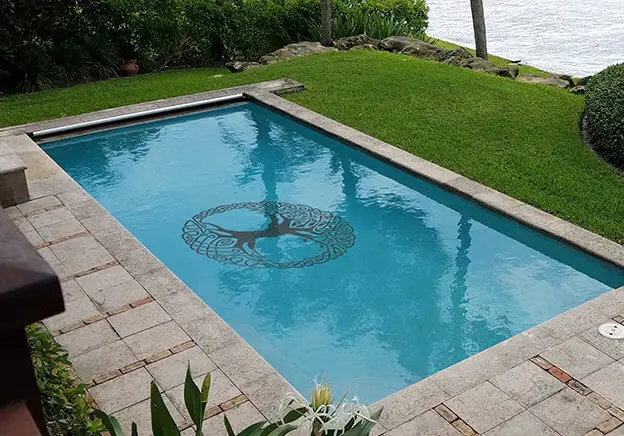 2. Add Some Lighting
Superb lighting will mean the difference between an excellent poolside experience and an average one.
Not sure how?
Check this out.
Go the Ambient Lighting Way
Are you cut out for night swimming under the stars? Maybe evening poolside parties are more your thing? You can improve your pool's landscape lighting to make the outdoor space instantly captivating.
Strategically install spotlights and hardscape lights to light up the pool area and retain its charm while at it.
To excellently pull this off, go for several lighting points instead of one source of sharp light, for instance, a floodlight.
Choose Color-Changing LED Lights
Adding LED lights to your in-ground pool will take your night swimming and evening parties to the next level.
Your evening poolside events will be the talk of the town!
If you'd love LED lights in your budget pool, talk to your pool builder since you should install some of these lights during pool construction.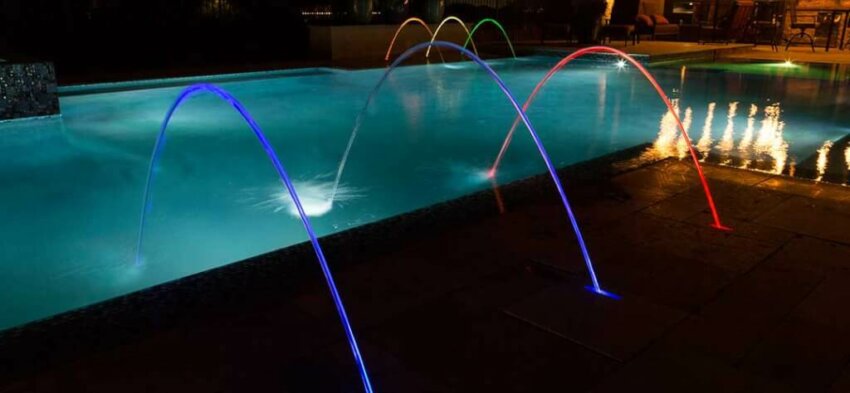 3. Construct a Wooden Deck
As far as pool landscape design goes, a wooden deck is a top-notch inclusion to your outdoor pool area. It's a backyard pool idea on a budget that will bring a refreshing and ultra-modern look to your property. 
Also, it comes in handy in separating the pool area from the larger outdoor living space.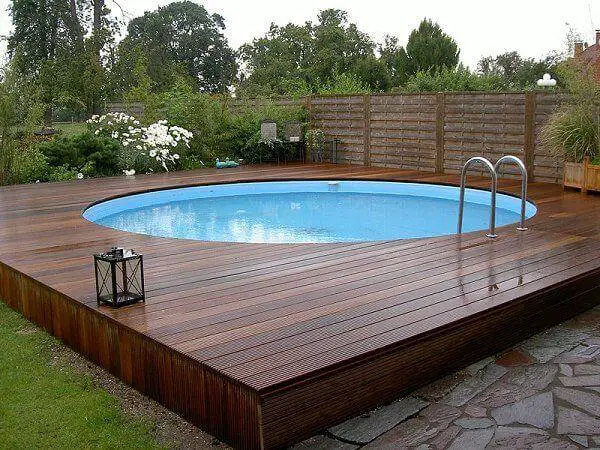 4. Make It a Budget Infinity Pool
If you have a mind-blowing view from your backyard, don't let it go to waste. An infinity pool is just what you need to complete the visual look of seamless water flow.
Also called disappearing edges, infinity pools make sense if you love the sound and look of water gushing over the edge.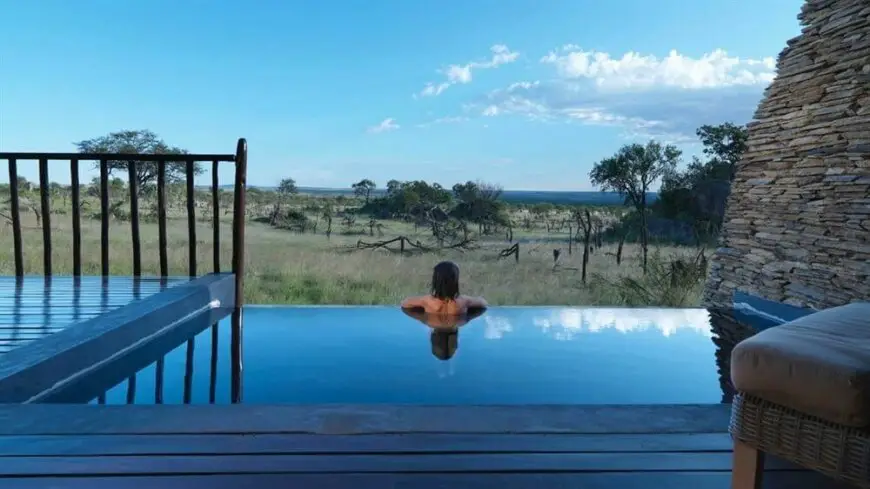 5. Install Pool Enclosures
Sometimes you'd love some private poolside time without prying eyes ruining the moments. Or the harsh rays of the sun blistering your skin.
Choosing a pergola to keep you and your family cool on hot days is a splendid idea. A pergola is perfect as an outdoor entertainment space, and having one surrounding your pool will make outdoor living more refined.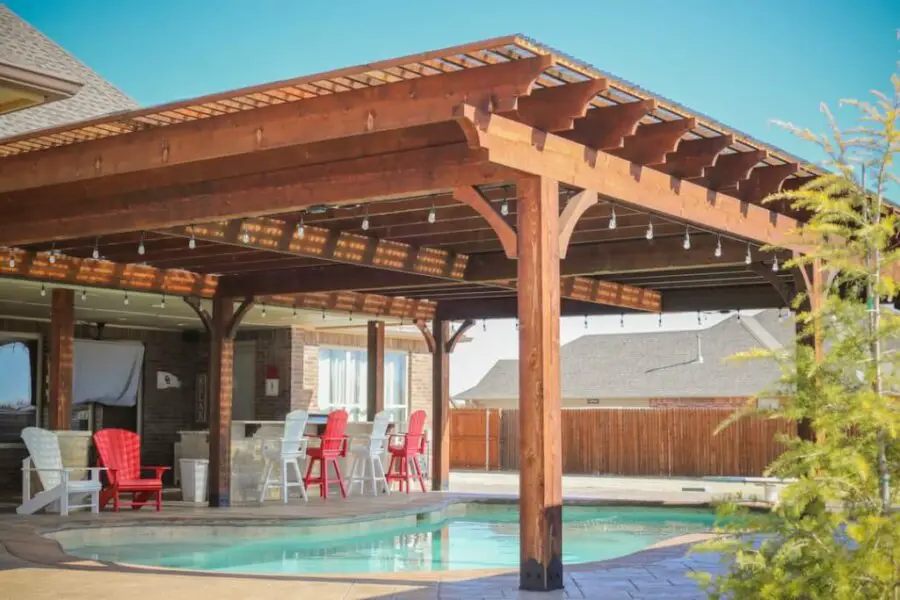 6. Bring Fire Features into the Pool
.Installing a fire feature into your pool will make it the favorite place in your home.
One fine swimming pool design idea is adding fire bowls around the poolside. You can have a warm and cozy time as you swim or relax on the tanning ledge.
7. Add a Bubbler
Bubblers bring back serenity and tranquility to your backyard with their relaxing sounds. Remember, like many other water features, bubblers should be installed when constructing the pool.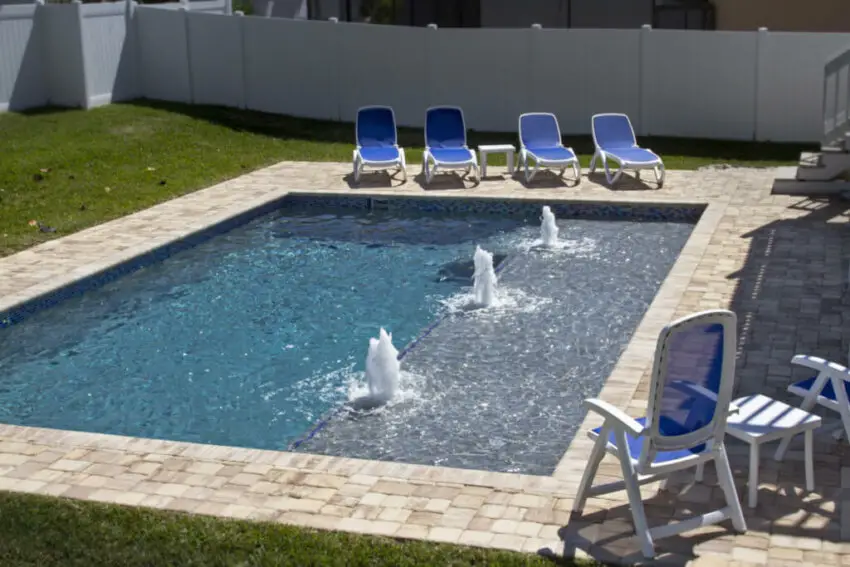 8. Add Pool-Friendly Greenery to the Pool Area
Most homeowners prefer surrounding their small pools in concrete, and it's not a bad idea at all. However, why settle for the ordinary while there are no restrictions to your creativity?
Ever thought of planting pool-friendly greenery on one or all sides of your pool? These plants will make a landscaping statement and give you a fantastic view every time.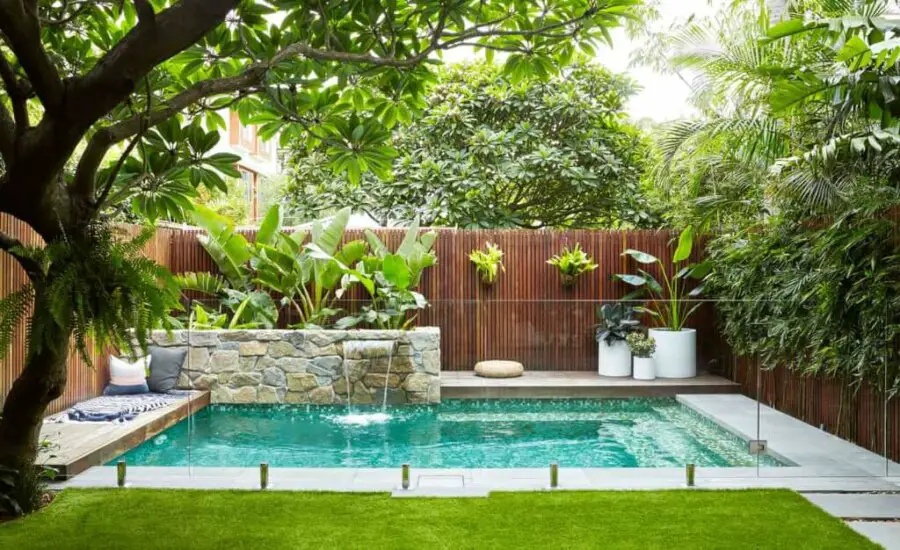 9. Paint the Pool Black
When it comes to incredible swimming pool ideas on a budget, no idea is off-limits. You can be as bold as possible with the pool color.
Why not go for dark-bottomed budget pools that could look so great? Gray, deep-blue, even black, the choice is yours!
All in all, going against the norm regarding your pool color can be quite the game-changer.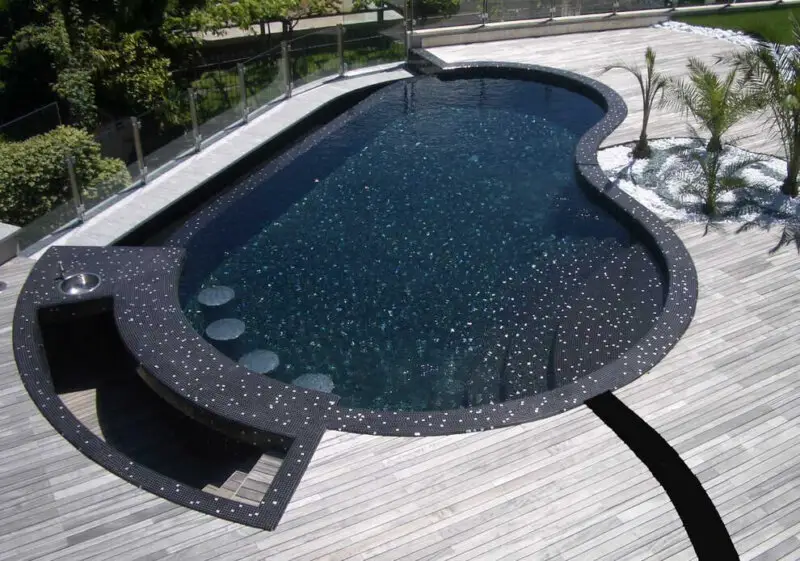 10. Include a Tanning Ledge 
Also known as a Baja shelf or tanning shelf, a tanning ledge is ideal for lounging in the pool in sweltering weather. With the right pool builder at your disposal, tanning ledges can potentially transform your pool area.
A Baja shelf is a must-have for homeowners who'd love to have water features, lighting, and pool furniture in the pool space.