Having a treehouse is a dream come true for both kids and parents. However, choosing the best design that complements one's preferences and budget can be difficult. 
Luckily, you do not need to consult an expert as we have compiled 12 amazing treehouses for kids' ideas.
1. Two-Tree Treehouse
Two tree treehouse for kids is a simple design that requires 2-3 trees close to each other. Building the structure over several trees gives you the option of creating a bigger house and using less bracing. 
The design can be as high as 2.7 meters, but it's essential to consider the tree movement before making the final decision.
If on a tight budget, you can use a recycled fence or cedar boards for the walls and a trap for the roof.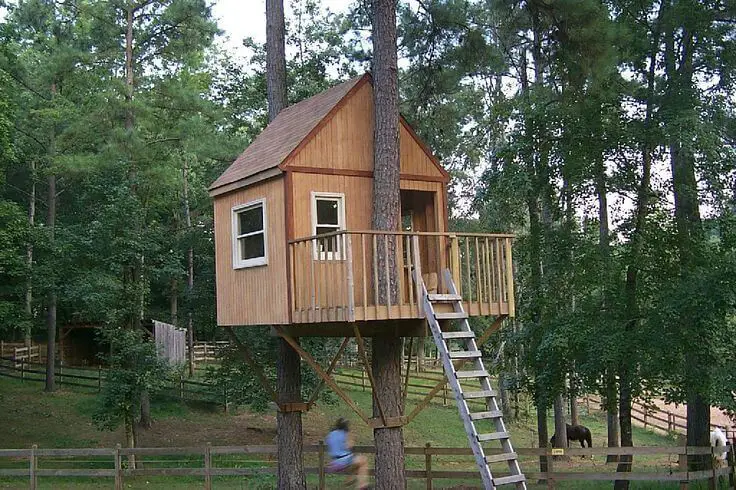 2. Epic Treehouse
Epic treehouse is a complex kids treehouse with all the features of a real house. Although it is expensive to build, the epic treehouse is stable and solid. If you want a structure filled with light, this is the right option.
Since it is more of a house, consider using large windows and a glass door to complement the design. Epic treehouse is ideal for winter since it's cozy and warm inside. When building a treehouse for kids, safety should be your priority. 
So, ensure the epic treehouse is not too far above the ground. Also, make sure the attachment bolts are appropriately installed (you can hire a professional to be sure) and choose a strong tree capable of holding the structure.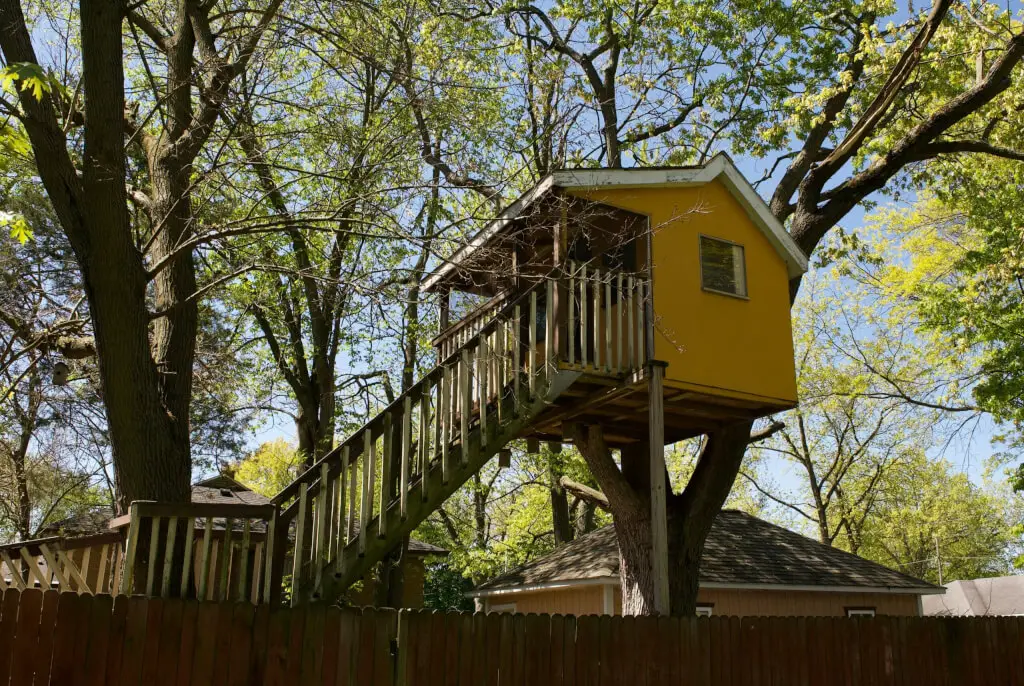 3. Double the Fun Treehouse
If you want to increase playtime for your kids, consider double the fun treehouse. It is the perfect design that will allow you and your kid's imagination to run wild.
Think of building the structure between two neighboring trees, one holding the treehouse while the other supporting an open platform. 
To connect the two trees, you can use a cargo net as a bridge. The bridge will make the treehouse stand out and also increase the amount of aerial play space. You can also replace the open platform with another treehouse, double the fun, and spice things up. 
Also, consider having a spiral tree slide so the kids can slide down instead of crossing the bridge all the time.
4. Hammock Hangout Treehouse
You can build a simple treehouse with your preferred material but make sure you put four solid posts. Ideally, the posts are for offering support to the hammock.  
A hammock hangout treehouse creates extra room for relaxation beneath the structure. It is a perfect place for your kiddos to enjoy the cool breeze as they read their favorite stories. 
5. Pallet Wood Treehouse
One of the most uncomplicated kids treehouse designs is a pallet wood treehouse, ideal for summer. The structure is entirely made of pallets, from the surface, walls, stairs, and the roof, making it less costly but attractive. 
Consider adding blankets, pillows, and cushions to add glam and make it comfy. Also, you can play with colors to make the structure more appealing, and your kids will love it.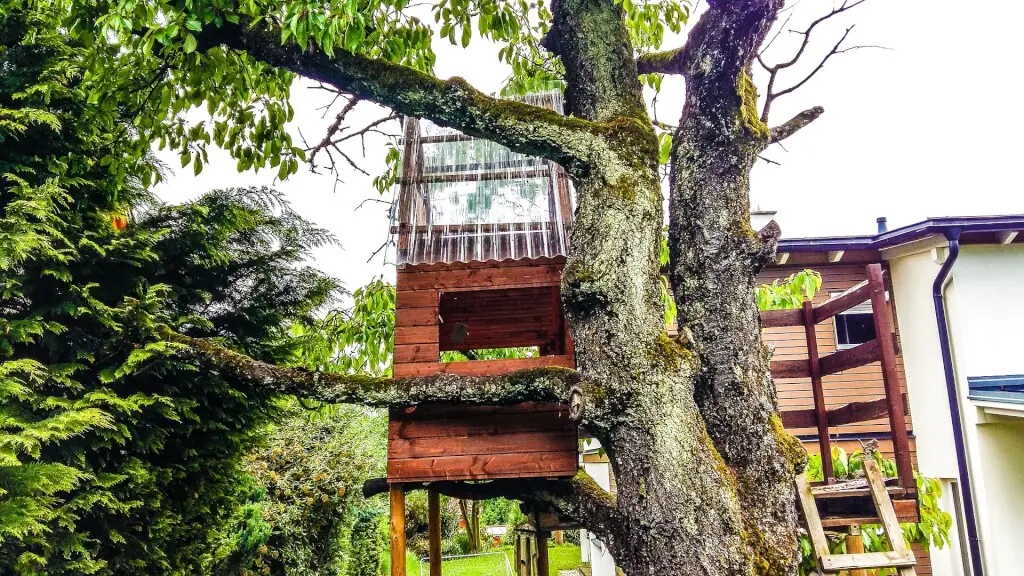 6. Modern Beauty Treehouse
Just like its name suggests, this modern beauty treehouse can transform your backyard by giving it a classic and stylish look.
The structure is made of steel foundation, making it solid and durable. In addition, the clean lines enhance its beauty, while the corrugated plastic walls offer maximum protection. 
7. Multi-Level Treehouse
Multi-level treehouse has more than two platforms, built at different heights. The structure has no roof, so it does not limit the number of platforms you want.
Although it is an extensive design that needs time to complete, you will be thrilled by the end product. Consider installing a bucket and pulley, talk tubes, disc swing, periscope, and a bench to add more fun.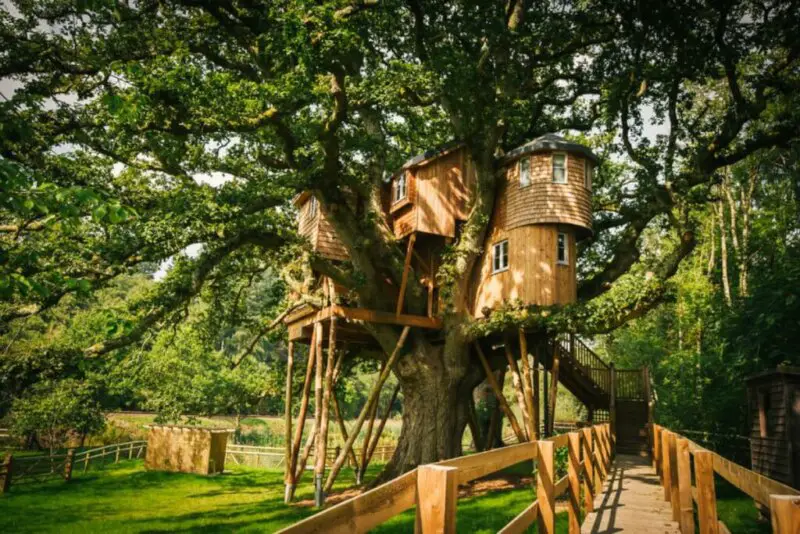 8. Play and Exercise Treehouse
Do you want a treehouse for kids that will expose your little ones to a lot of vigorous activities? Play and exercise treehouse is the ideal option as it provides a place for climbing, exercising, and creative play.
Install monkey bars, a slide, slackline, a rope, and a zip line, and give your kids the best playspace and exercise platform.
Play and exercise treehouses are sometimes considered risky for the kids. So, equip them with the right protective gear, have a first aid kit ready, and always supervise them. Also, train them how to exercise with caution without minimizing the fun.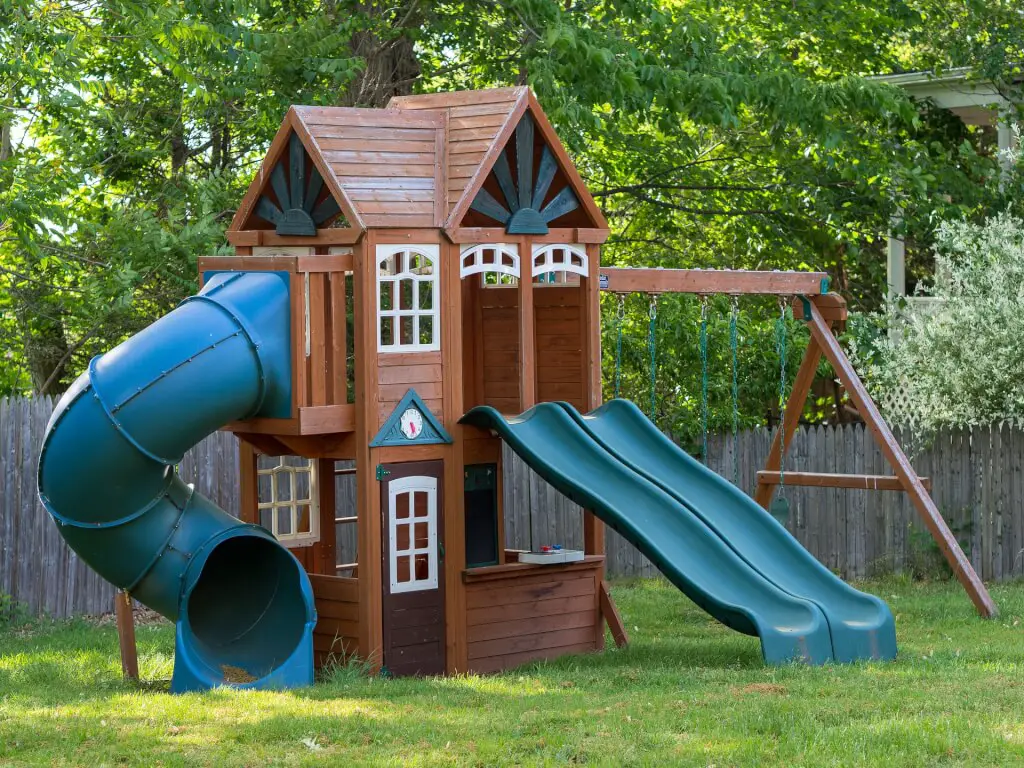 9. Dead-Simple Treehouse
Are you looking for a simple treehouse design that will take you only one day to complete? Choose a dead-simple treehouse. Besides, a treehouse doesn't have to be fancy for your kids to make memorable moments. 
So, all you need is to install the deck and the stairs, and your treehouse will be ready. Cover the deck with colorful rugs and throw in some pillows to add more flavor and make it appealing. 
10. The Cube Treehouse
If you are on a tight budget, then go for cube treehouse. You can use straight cuts of wood, design a cube-like structure, and be sure your kiddos will love it.
You can paint it with their favorite colors to make it appealing. You can also add a swing beneath it to add more fun.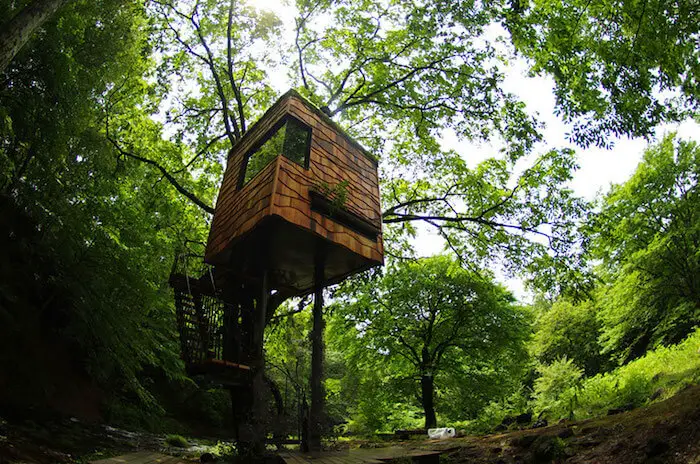 11. Open-Air Treehouse
An open-air treehouse has open-air walls that allow cool and fresh air into the playspace. However, although the structure has a roof for protection from sun rays, it is not ideal for winter as it can get freezing.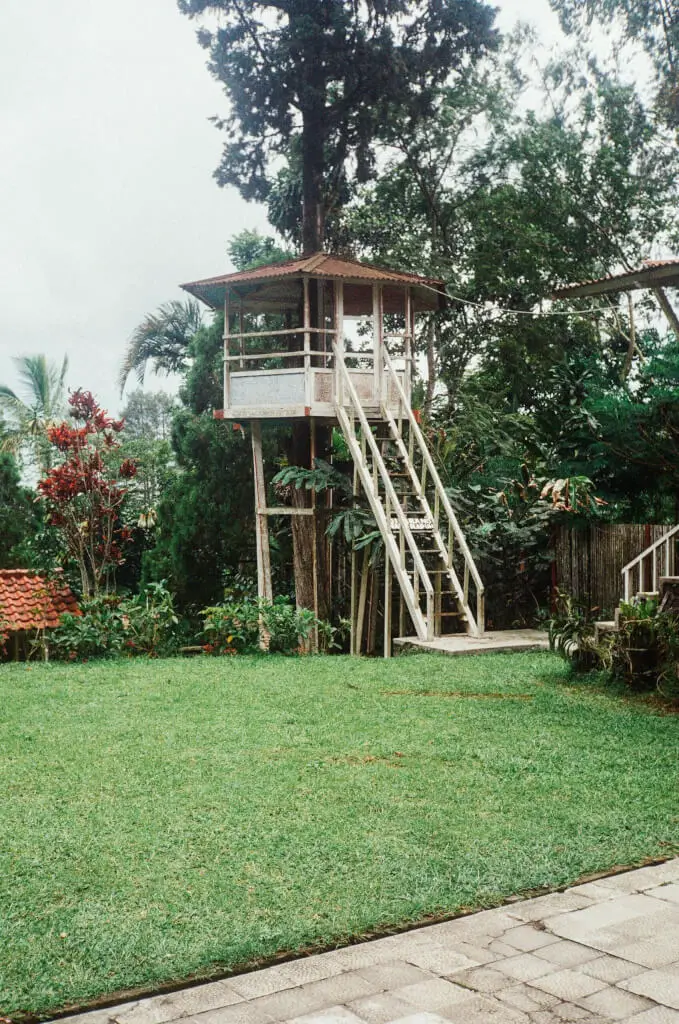 12. Simple Chevron Treehouse
A simple chevron treehouse is one of the simple kids treehouse designs you can comfortably build on your own. It can be built as a standalone platform if your backyard has no trees.
The house walls are chevron, making the playspace artful and attractive. You can enhance the interior with pillows and brackets.