The types of fences at your disposal are endless, from wrought iron to chain link to vinyl fences. However, the wooden fence is the most popular choice for homeowners and landscaping enthusiasts.
Nothing is forbidden as far as modern wooden fences are concerned. Popular picks include western red cedar fences and the all-time favorite, white picket fences.
Wooden fences serve an array of purposes, from outlining your garden to acting as a privacy screen and enhancing the curb appeal of your front yard.
There's something about wood fences that's both aesthetically and natural.
Let's look at a few wood fence designs.
1. Cedar Fence
Cedarwood is a classic example of high-quality wooden privacy fence ideas designed to enhance your outdoor look. Besides their renowned durability and aesthetics, cedar fences have gorgeous color and natural resistance to rot and bugs.
For homeowners who value their privacy, cedar affords them tall fencing panels. Also, cedar fences have a shadow box design that makes both the outside and inside of your fence appear finished.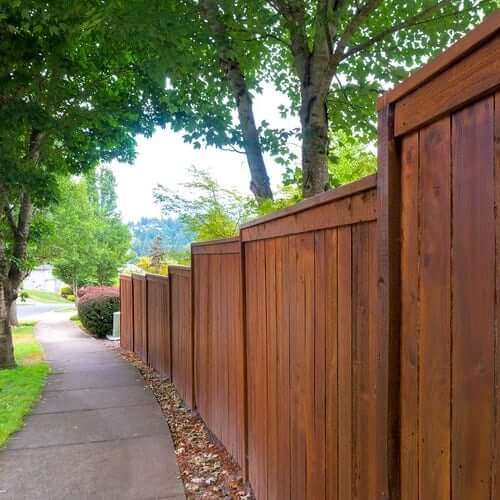 2. Unfinished Wood Fence
If you want an out-of-the-ordinary fence that will turn heads, the unfinished wooden fence is right up your alley. This fencing design brings a deliciously rugged and rough look to your yard fence.
Depending on your front yard or house design, the unfinished wooden fence can be incredibly pleasing to the eye. Moreover, using unfinished wood saves you wood stain and painting costs.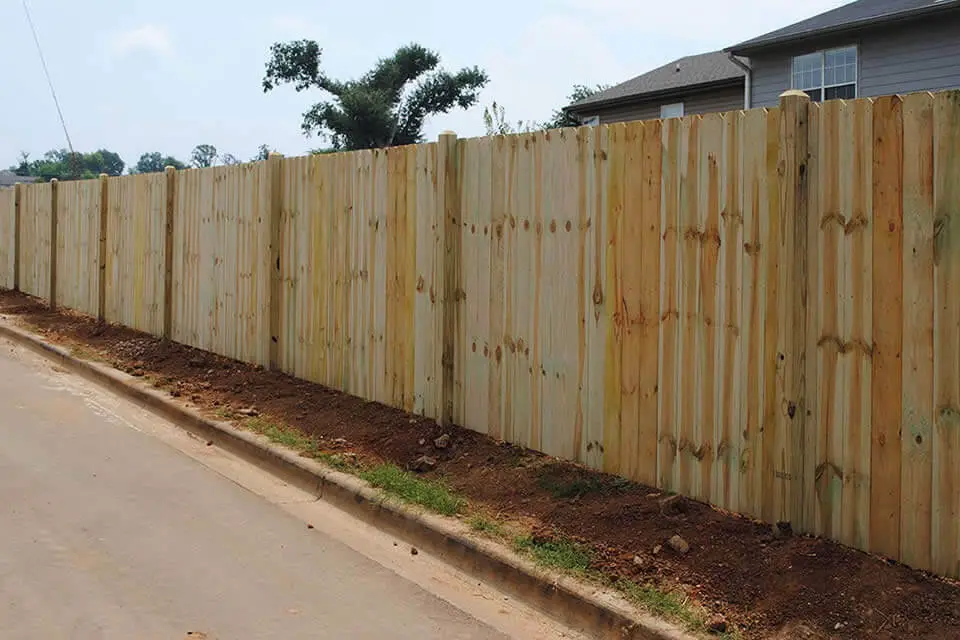 3. The White Picket Fence
The white picket fence is an iconic vintage pick for homeowners seeking to highlight their property lines. Thanks to its simplicity and functionality, this DIY fencing option has been around for ages. However, its longevity notwithstanding, the picket fence is still a much-preferred modern fence idea.
Picket fences are low-height fence styles and infuse a homely sense of privacy and enclosure. The secret to having the best picket fence is painting it expertly with durable paint designed particularly for wood.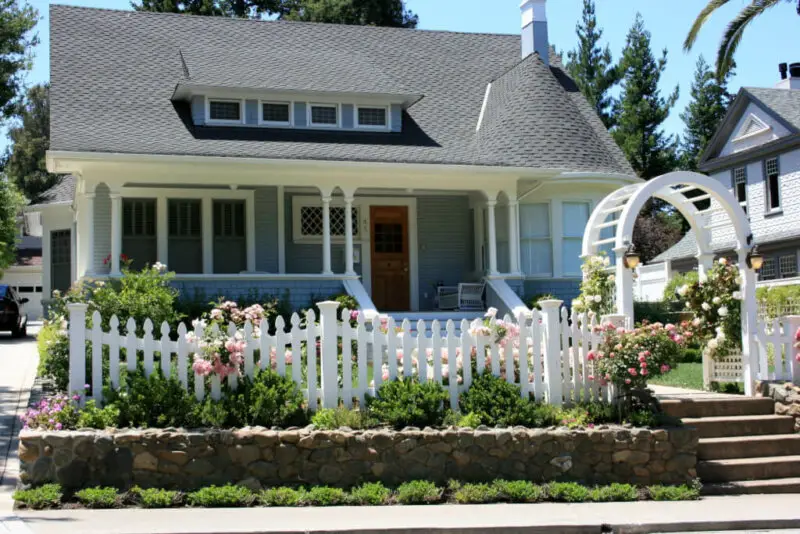 4. Split Rail Wooden Fence
The split rail fence reigns supreme due to the minimal requirements it brings to the table. All this yard fence requires is wood! Nothing else. Not even hinges, nails, or any other fencing material.
The structure of your fence will largely depend on how you've assembled the wooden logs. Nonetheless, split rail wood fence designs are robust enough to serve you for a long time.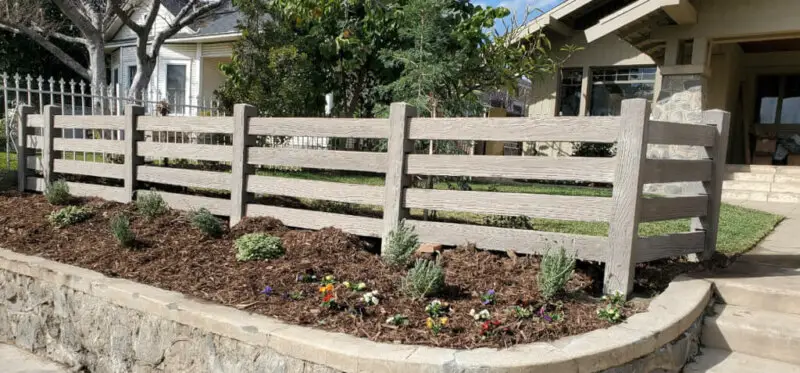 5. Horizontal Slat Fence
Slats on angles rank as aesthetically pleasing ways of mixing up your ordinary wooden fence. Opting for a horizontal slat fence with slats of varying sizes is the ultimate modern horizontal wood fence design.
This design is a safe and private option if you need a new fence to replace the old metal fence. The trick to getting exemplary results is hiring a professional fence company to handle the installation.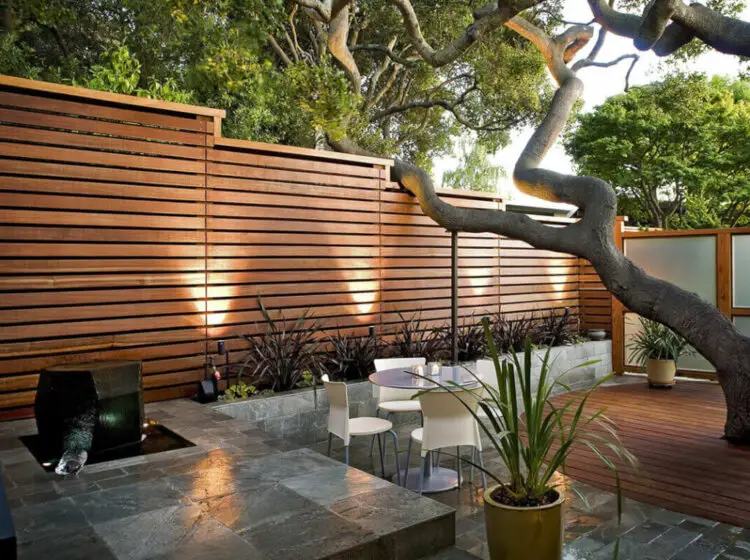 6. Cross-Post Wooden Fence
If you own a huge estate or your yard is larger than usual, the cross-post wooden fence is for you. These fences come in handy in marking and separating private land. For landowners with a wild aesthetic streak, this fence's natural and rustic design will appeal to their wild side. 
Better yet, this fence is effortless to install; it doesn't need paint and will last for generations.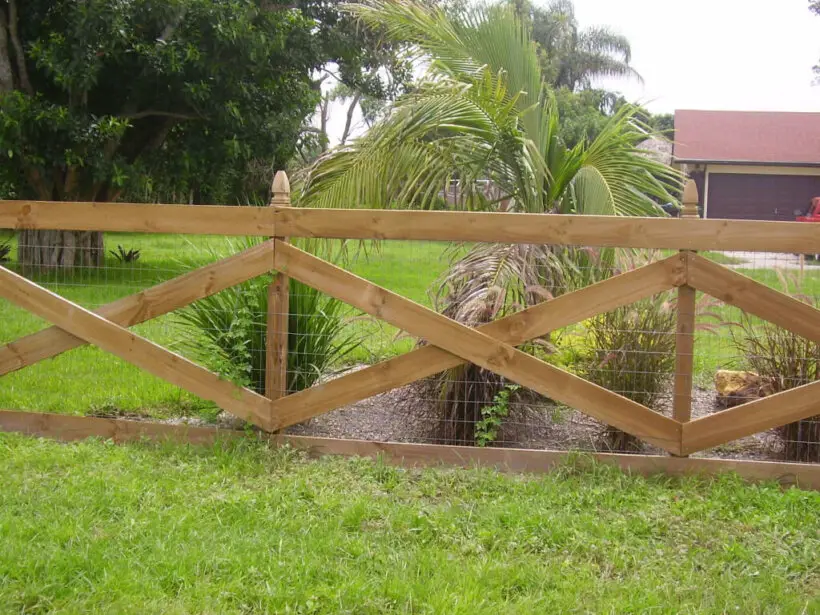 7. Bamboo Wooden Fence
Bamboo has been a popular wood fence design in Asia for eons. However, it has found its way into the Western world's homes. Apart from its beauty and functionality, bamboo is incredibly resilient and flexible. Additionally, it is an accepted eco-friendly fencing option with a dazzling array of colors.
You can interweave bamboo using a variety of wood and wire fence designs. Alternatively, you can use bamboo in its full glory as your exclusive fencing material.
Rolled bamboo coupled with timber will accord you a highly-reinforced fence for added protection and security. For those seeking privacy, using individual bamboo poles will work out nicely. Regardless of how you use bamboo in your fencing, the final outdoor look will definitely be a masterpiece!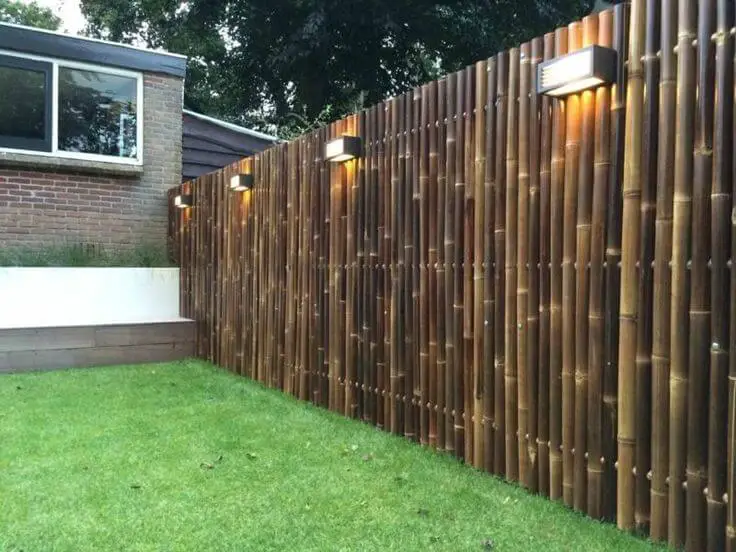 What the Right Wooden Fence Will do For Your Home
If you live in a busy residential area, you must probably contend with unending noise. The cacophony of vehicles and human noise can get pretty problematic.
However, with the right privacy fence, it will act as a noise dampener, giving your garden much-needed quiet.
Wooden fences are the answer to any design ideas for your fence running through your mind. They present you with the largest repertoire of designs and looks, giving you an impressive pool of choices for your property.
With the proper fence, you can expertly accentuate your property. Your fence is usually the first thing your visitors see when they come to your home.
The right fence will accord you enhanced privacy, even if you live in densely-populated residential places.
In addition, an adequately tall wooden locking fence gate adds an extra layer of security to your property.
By defining the property lines of your property, your wood privacy fence also keeps your kids, pets, and greenery safe.
As long as they are fenced in, you'll have peace of mind that their safety is assured.