Are you planning on starting a veggie garden soon? Or maybe you already have a lovely vegetable garden, but there's just one problem; you can't keep the critters away. Well, a DIY garden enclosure could be the answer to your problems. 
Let's look at a few garden fence ideas that could come in handy in protecting your garden.
1. Wrought Iron Fence
Nothing beats a wrought iron fence as far as fencing your backyard garden is concerned. Better yet, the array of choices at your disposal is vast. From contemporary to classic, metal fences give you the options to match any house design. 
All in all, a wrought iron fence is a classic and durable fencing option to keep your greenery safe. You can settle for a straightforward, casual fence or go all-in with an elaborate and intricate design.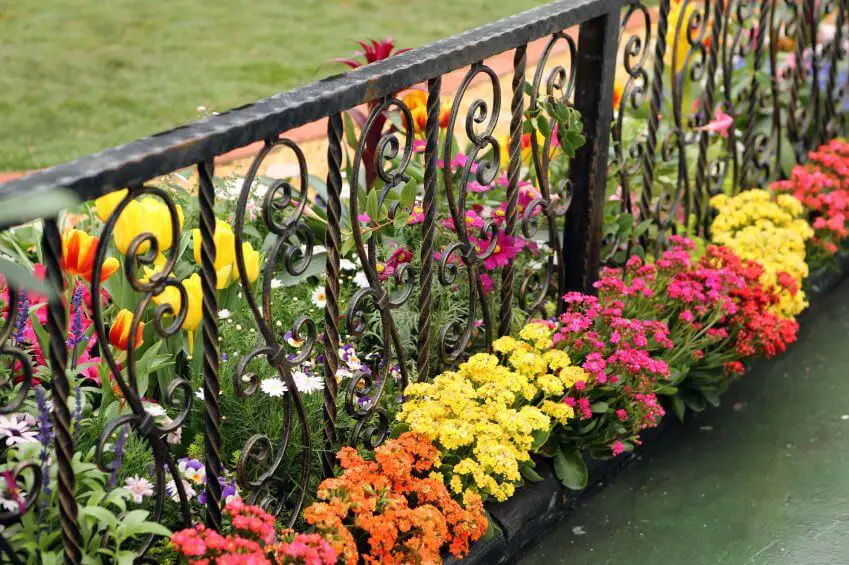 2. The Iconic White Picket Fence
Are you a style enthusiast who adores beautifying your outdoor space for the seasons? Then you can never go wrong with the iconic white picket fence. These stunning and simple fences will always infuse a touch of elegance into your landscaping. 
In addition, the picket fence will offer a delightful 'canvas' to bring out your decorating side, and the result is a masterpiece.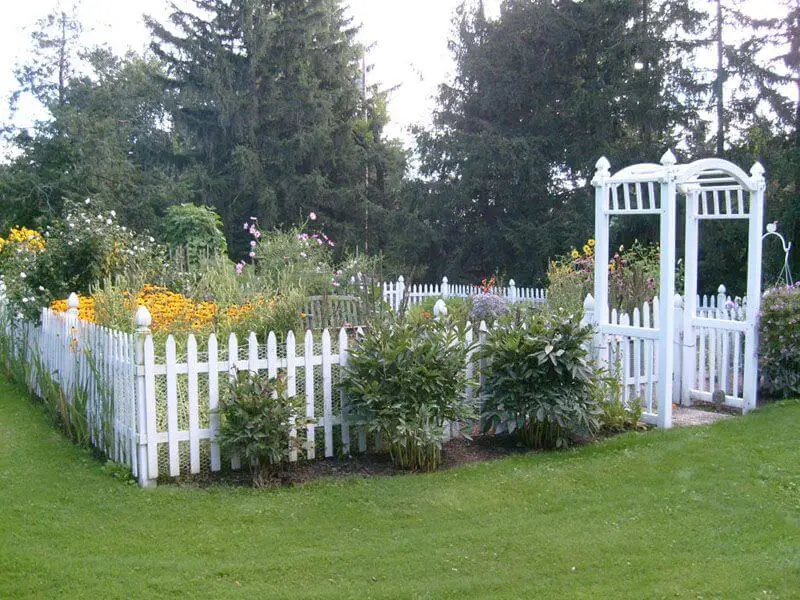 3. White Vinyl Fence
Perhaps you are a believer in the American dream of a stunning white picket fence. Still, you don't fancy the backbreaking work involved in maintaining a wooden fence, with the painting and all. 
If you can relate, then it's about time you visited your home depot for a vinyl garden fence. To cap it all, introduce a few climbing plants in front of the fence, and you'll get beautiful results.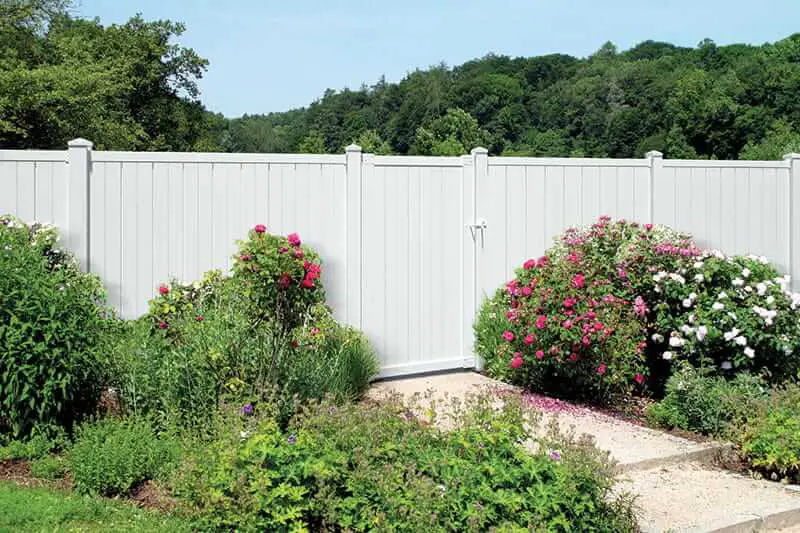 4. Bamboo Fence
Are you looking for a privacy fence that will also double up as a windbreaker? Then let's talk bamboo fencing. Bamboo fences will not only shield your garden from prying eyes, but they'll also withstand winds of up to 60 to 70 mph. 
That's not all! Bamboo grows incredibly fast (up to 3 feet in a day); therefore, it is an excellent vegetable garden screen enclosure. With about 1,200 bamboo species at your disposal, there's definitely appropriate bamboo to suit your region.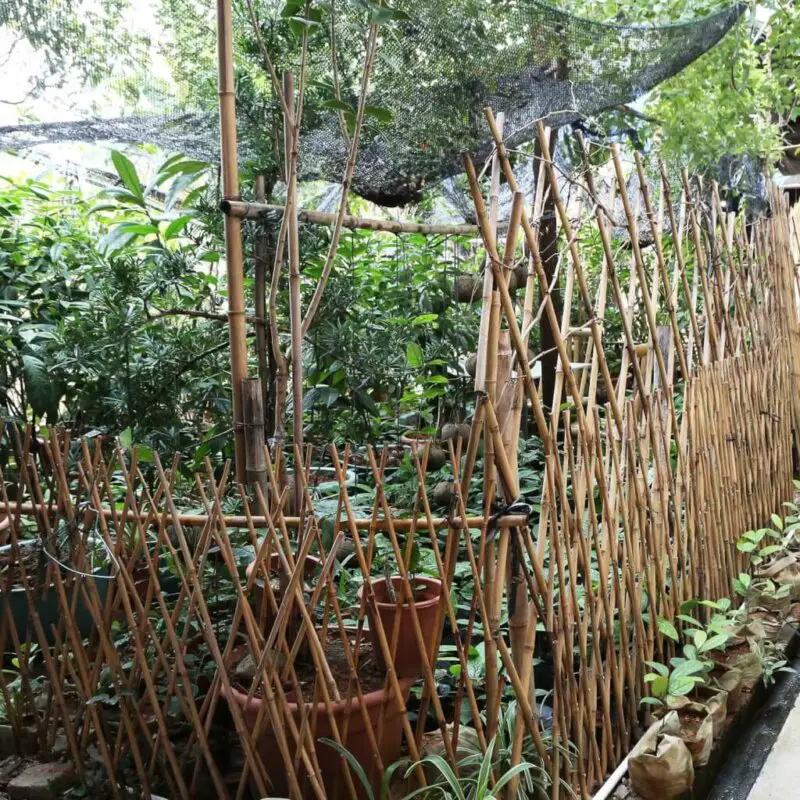 5. Log Style Vegetable Garden Fence
You may or may not have a log cabin or log-style house, but it's unanimous that a log fence is an incredible garden enclosure idea. As easy DIY fencing ideas go, this is a walk in the park. You just need some treated logs, some nails, and a hammer! 
You'll love the fact that the log-style garden enclosure is the perfect deer-proof option. As the icing on the cake, you can fashion the garden gate from logs and complete the magnificent look.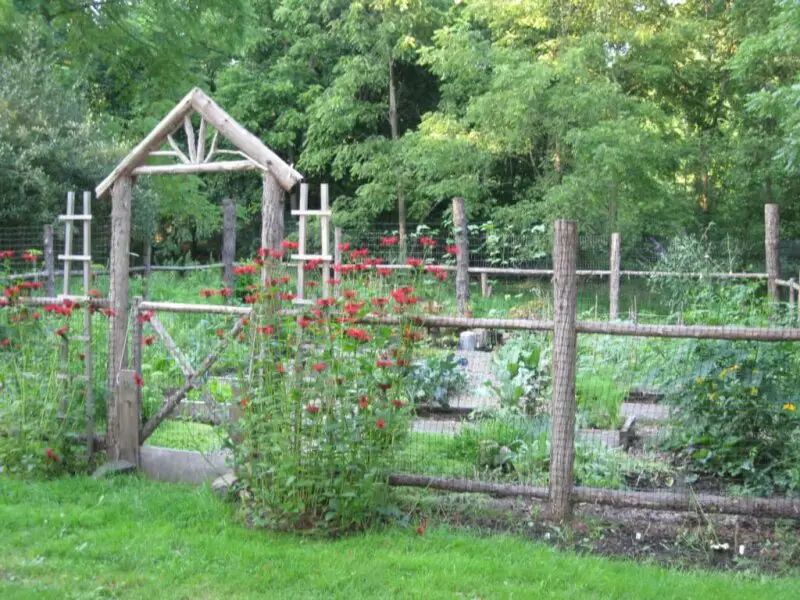 6. The Practical Chain Link Fence
What if your garden enclosure plans are more in the line of an affordable, uncomplicated, and basic veggie garden fence? There is always the good old chain link fence. It's as good a deer fence as any, and it'll also keep out kids and pets. 
What's more, your chain link fence will let in lots of sunlight while giving you a great view.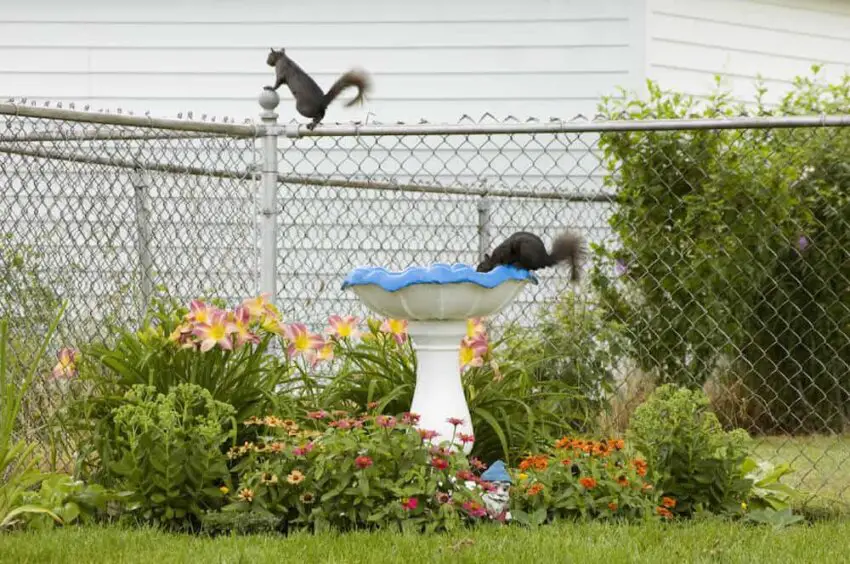 7. Climbing Plants Fence
The design and structure of this fence type are not easily seen behind the veil of flowers. Nevertheless, it is a fantastic small garden enclosure idea. Horizontal bars of the fence act as 'sideways leaning' trellis, where vining/climbing plants like honeysuckle and roses can grow laterally instead of vertically. 
Ultimately, this growth will conceal the original fence structure but create a breathtaking live fence.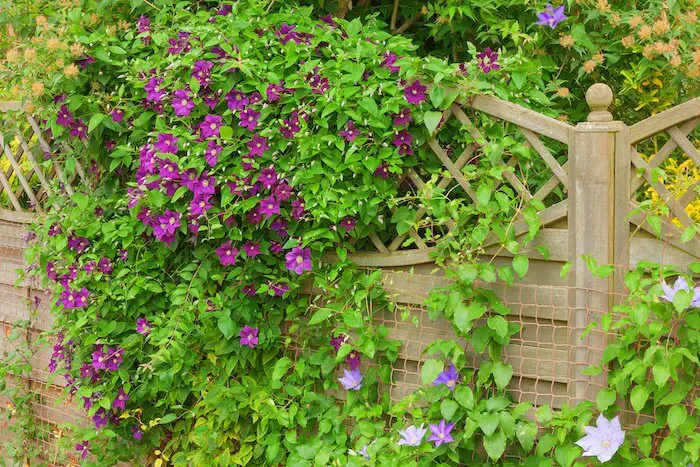 8. Wicker Fence
Vegetable garden fencing ideas vary from ordinary to highly creative. Wicker fences fall into the latter category. Made from bent willow, they are the best bet for your informal cottage veggie garden.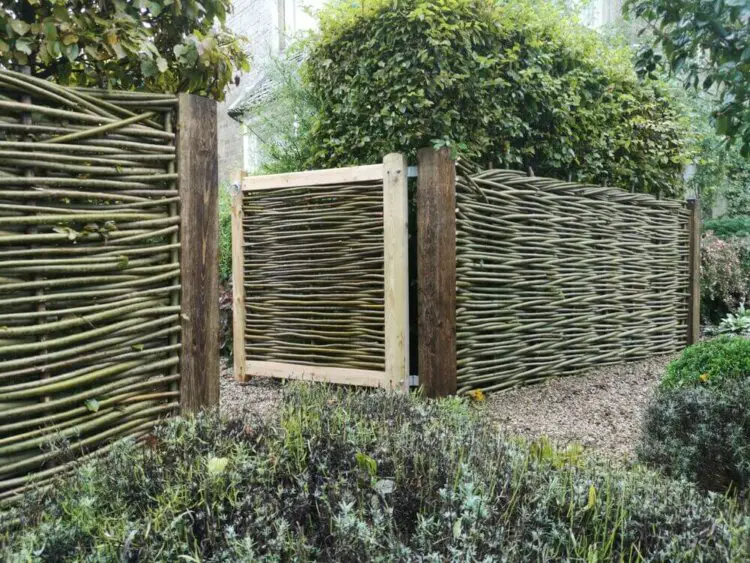 9. Chicken Wire Fence
There's a time when chicken wire fences used to be all the rage as a fencing option. Cheap, practical, and easy to install, wire mesh is a dream come true as far as DIY garden enclosures go.
While this type of fence is almost invisible, it nevertheless manages to keep unwanted visitors away from your cucumbers and meticulously-made flower bed.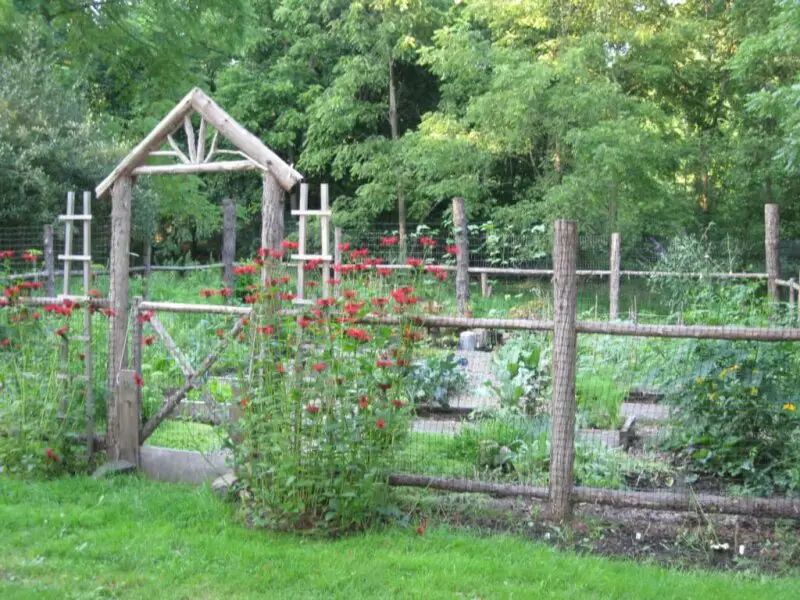 10. Concrete Vegetable Garden Fence
A concrete wall around your new garden is the ultimate privacy fence. Add an electric fence on top, and your privacy is guaranteed double-fold. However, what your fence offers in privacy will degrade the appeal of your vegetable or flower garden. This is where raised garden enclosure plans come in.
With their fresh greenery and assorted trees, they will completely transform your outdoors and complement the concrete barrier.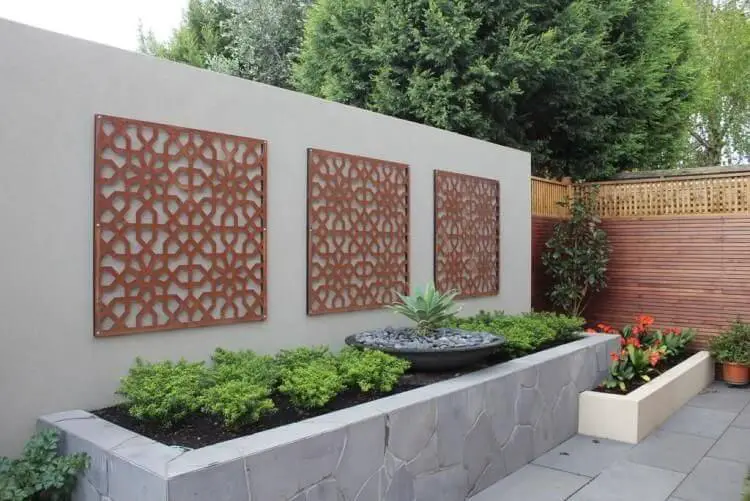 Next-Level Acoustic Fencing
Your backyard garden is more than a place to grow your favorite veggies. It is also a place to unwind and be one with Mother Nature.
Only getting much-deserved privacy and quiet can't be possible if you're next to a busy road or living near densely populated residential premises. 
Acoustic fencing barriers are the in-thing for considerable noise reduction. So, when you're looking for a fence for your vegetable or flower garden, you might want to factor in the noise issue.