Did you know that your mind can answer most questions if you learn to relax? Well, all this is possible thanks to hot tub privacy ideas like pergolas, frosted glass, living screens, and other backyard ideas.
A hot tub is your own private little heaven for unwinding after a long day. Imagine your ultimate outdoor living as you forget all the cares of the world! 
Additionally, you could couple the hot tub experience with adequate privacy to block out the prying eyes from viewing your most private moments.
To make your garden spa your favorite spot this summer, implement a few backyard hot tub privacy ideas for the ultimate mood lighting experience. 
These include: 
Curtains/window films 
Frosted glass
Hot tub gazebos
Modern pergola
Living screen
Portable enclosures 
Trellis 
Portable Hot Tub Enclosures
Landscape Design Ideas for Your Outdoor Hot Tub
1. Curtains/Window Films
Try adding some curtains to your windows. They should work just as well as a traditional screen and provide more privacy than using a sheet! 
If you want something that looks less like an afterthought and more like part of your design plan, we recommend looking into buying window films that reflect light and inhibit visibility. 
They usually come in different patterns and colors, so make sure you choose something that matches your home's color scheme too!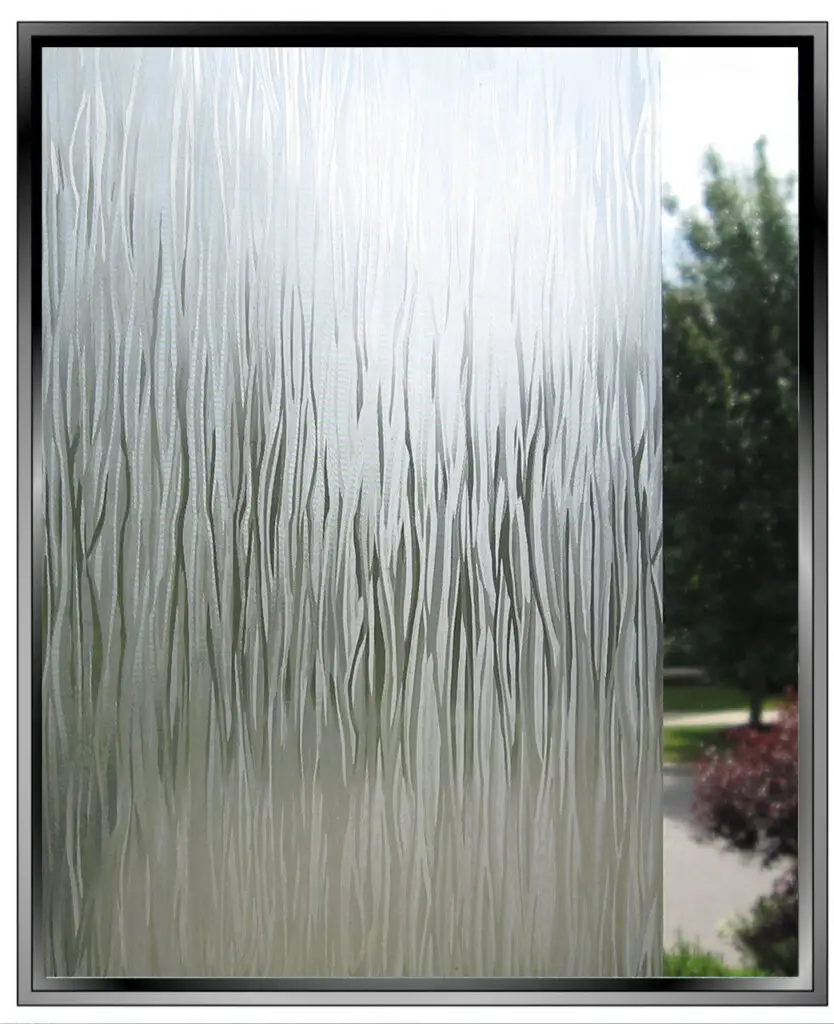 2. Frosted Glass
Frosted glass is definitely your ally for making a style statement. If your hot tub is placed high, maybe on your roof terrace or deck, people below you can easily watch you.
You want a screen that blocks out all light, but also one that you can see through easily. While you could use opaque glass for a privacy fence, it only makes your space dark and gloomy.
The situation calls for an idea that won't block the light, making frosted glass one of the best hot tub essentials.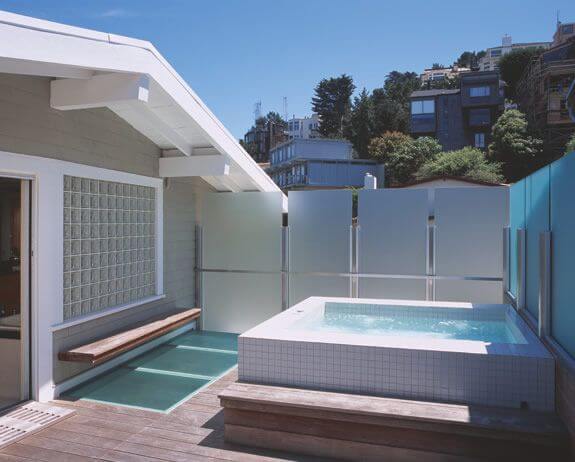 3. Hot Tub Gazebos For Privacy and Shelter
Do you know that gazebos are the ultimate outdoor hot tub privacy design? Maybe you think gazebos are only for garden kitchens or outdoor seating areas.
No matter the weather, a gazebo will not only shelter your hot tub but also offer privacy by blocking prying eyes from all four sides. A gazebo also blocks the top, especially if neighboring houses have overhead windows.
Moreover, you can include your favorite outdoor furniture if your gazebo is large enough.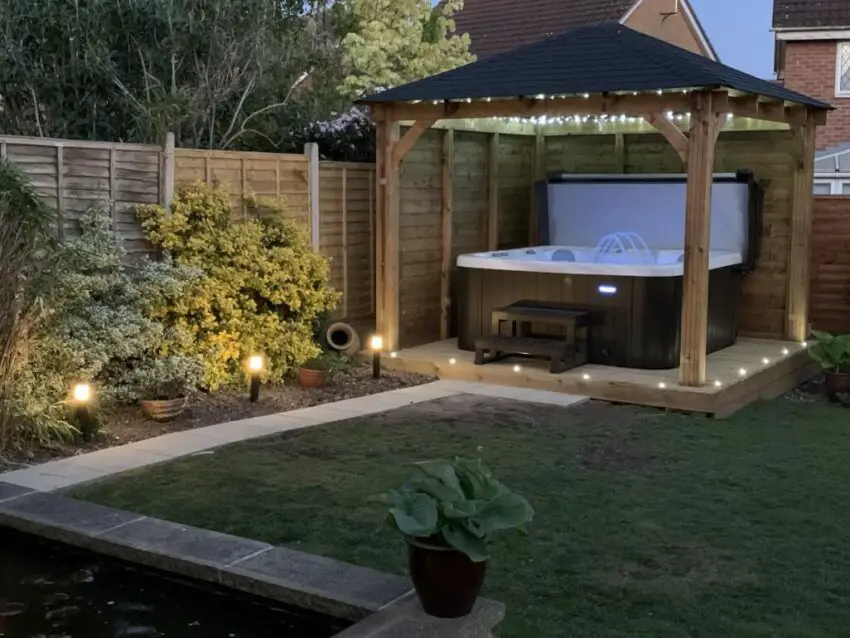 4. Privacy by Modern Pergola
The pergola is a hot tub privacy idea that's a darling of homeowners all year-round. Pergolas are sleek structures that rest on pillars or posts and have slatted cross-beamed roofs.
They are placed above hot tubs and provide a beautiful combination of privacy, light, and shade. You can easily order garden pergolas from Amazon.
Why use pergolas for hot tub privacy?
You can use pergolas regardless of the weather.
You can adjust the roofing slats effortlessly to control the view and the amount of natural light and air.
The pergolas also offer space for climbing plants to grow, further adding elegance to your backyard.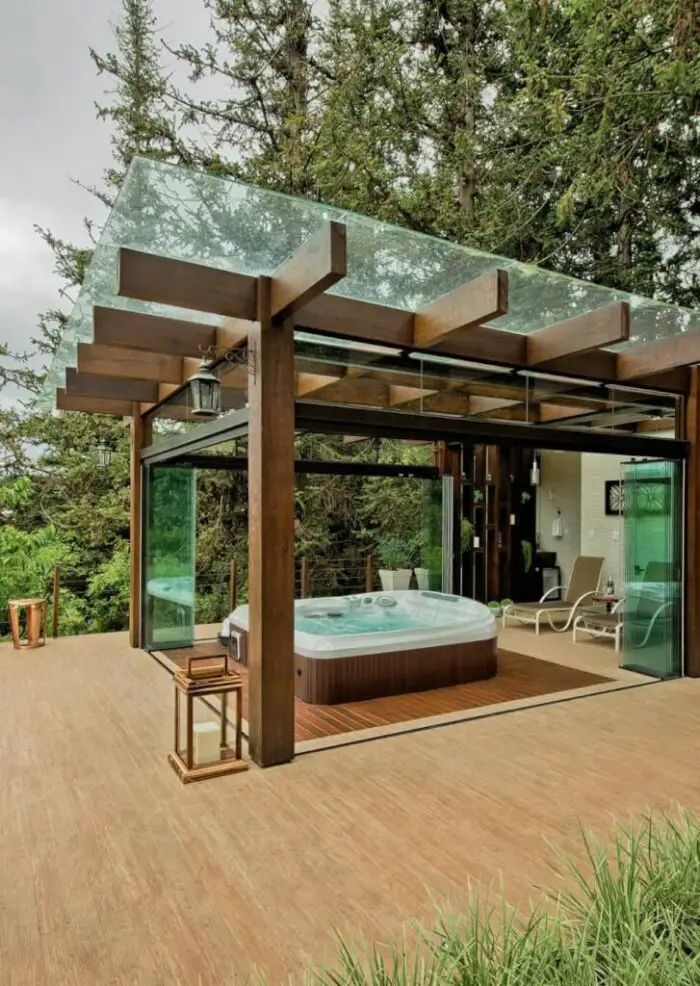 5. Grow a Living Screen
A living screen is a fence made of trees, a natural privacy idea for your property. You can create a unique hot tub privacy screen by purposefully placing shrubbery, trees, or other greenery around your hot tub.
What do homeowners benefit from having a living screen?
It changes the overall view of the landscape.
It makes your backyard more appealing.
Most importantly, the living screen offers privacy while acting as the focal point of your garden.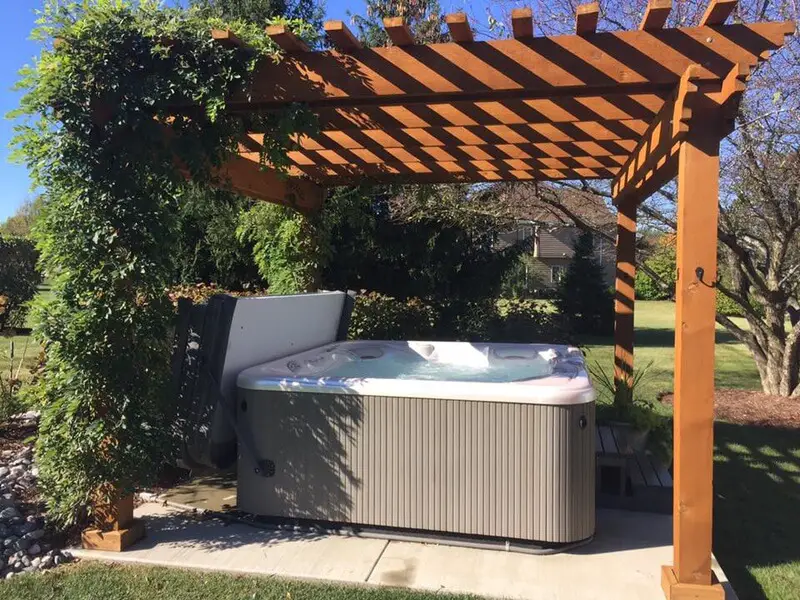 6. Mood Lighting
When it comes to your backyard hot tub, the lighting is key. Your hot tub should be in a secluded and dark area so you can enjoy your time without any distractions. Therefore, some outdoor lights will make your experience much more comfortable and enjoyable. 
You want to install lighting for whatever mood you're trying to achieve: romantic, cool, or bubbly. Cool colors like blue and green are perfect for a relaxing evening by yourself or with friends; these colors give off a calming effect to ease stress and anxiety. 
Warm colors like orange and red are great for a party scene because they evoke excitement and invigorate people's senses: perfect for those summer nights! 
Romantic colors like purple and pink are best for those intimate moments of self-reflection or conversation.
Whatever type of lighting you decide on, your backyard hot tub must have enough light so that you can see comfortably without being distracted by other things around you.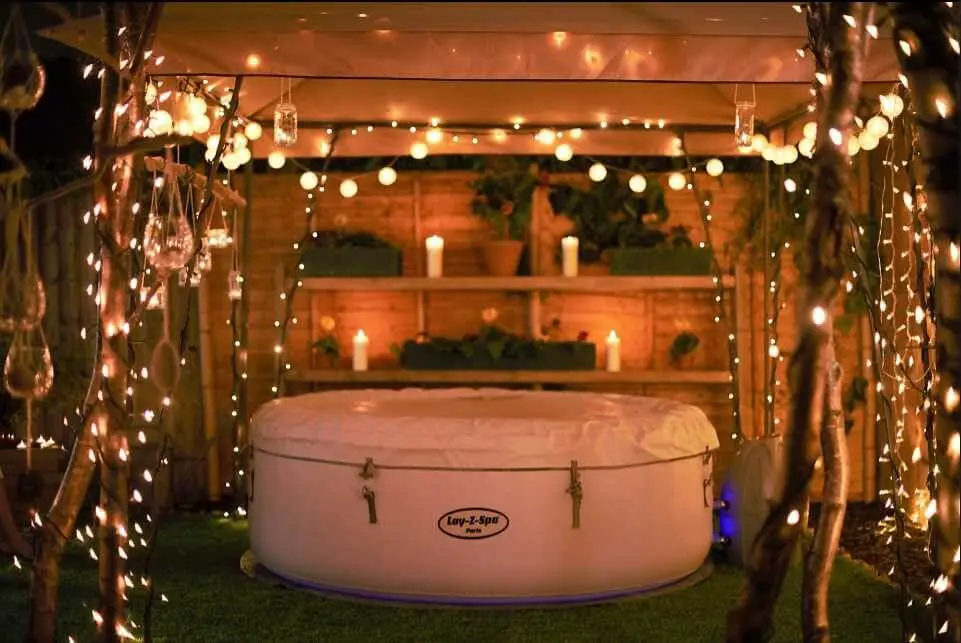 7. Get Privacy with Trellis
Wouldn't you love a DIY privacy wall that shields you and enhances your outdoor décor?
Hot tub trellis is a decorative and functional option.
A trellis crafted from high-quality natural wood and placed around your hot tub works wonders. The trellis and planter are designed together, and the former allows space for your climbers (vines and flowering plants) to grow.
The best thing about the trellis is that they are not costly. 
Popular trellis plants include:
Clematis 
Climbing roses 
Wisteria 
English ivy
The only downside about this option is that it won't offer immediate privacy, but once the climbers bloom, it'll more than make up for that!
However, some plants shouldn't be near your hot tub, not unless you want some nasty bee or wasp stings. Or some painful pricks from thorns.
They include:
Thorny roses
Fruiting berries
Pyracantha
Cherries 
Barberries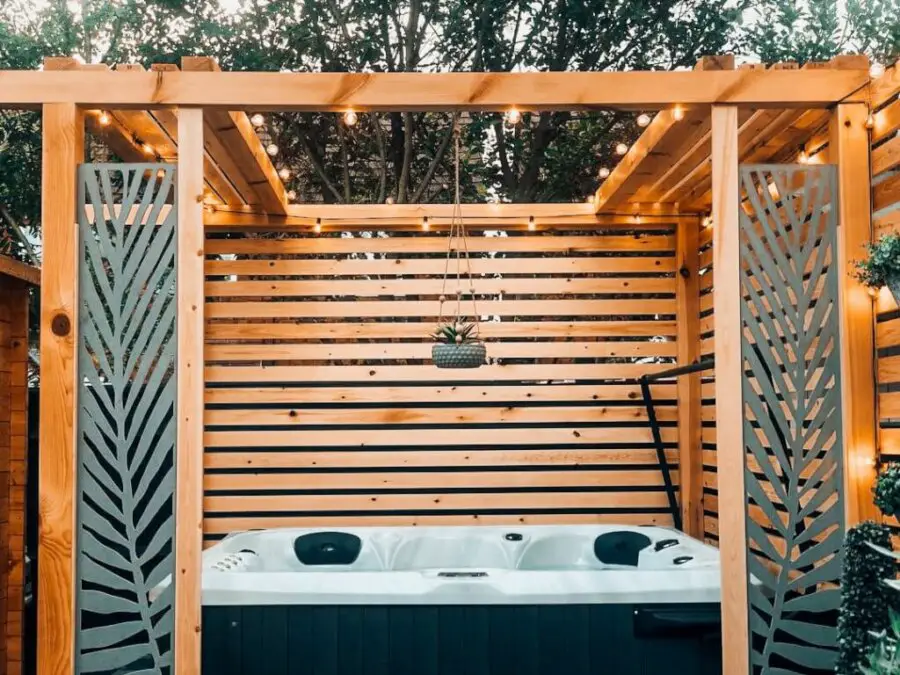 8. Portable Hot Tub Enclosures
Portable hot tub enclosures are affordable options for ensuring hot tub privacy without the expense of permanently fixed freestanding privacy structures.
The typical portable hot tub enclosure options include:
Canopy hot tub tents are set up just like camping tents. They come with anchors, ropes, and pumps. However, most of these products require pumping just once every week.
Although hot tub domes are portable, there are also permanent varieties. They have gained popularity due to the privacy standards they offer while maintaining a stunning view.
Hot tub domes come with an array of extras, including:
Sliding doors
Retractable blinds
Tinted glass panels