There's so much to love when it comes to landscape gardening ideas—splashes of green, bursts of color, vibrancy, texture, and so much more. 
One of the secrets to accentuating your landscape's beauty is the small garden, edged with timbers.
Are you in for it? 
Well, we have put together some creative DIY timber garden edging ideas to help inspire you while giving your garden a neat, clean, and well-defined edge. Take a look. 
1. Timber Lattice Garden Edging
Lattice is a popular way to add depth and texture to your garden/lawn edging. Most importantly, timber lattice provides an elegant touch to a front yard or garden.
You can make lattice garden edging by attaching two pieces of timber side-by-side with nails or screws. Alternatively, you could cut one board into two thinner boards and attach them together with nails or screws. 
Space the holes in the lattices differently so that on stacking them on top of each other, they leave spaces with a unique look.
There are many different types of lattices you can use for this type of edging. One example is the diamond-shaped lattice, characterized by diamond shapes at even intervals in the slats. 
Diamond lattice has more gaps in it than square or rectangular shapes that naturally let light through while still providing beauty.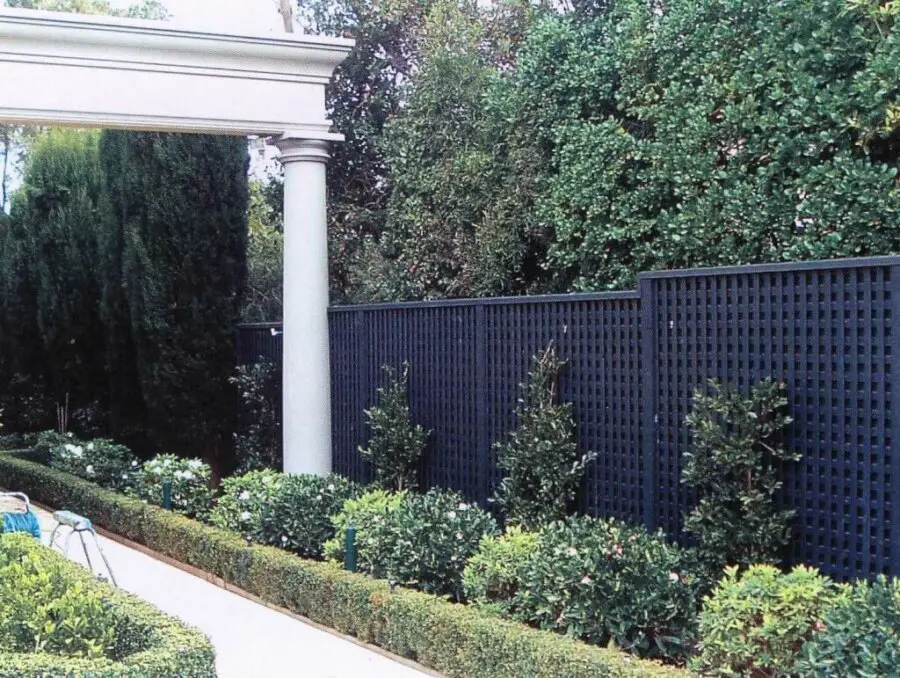 2. Timber Slats
Another type of timber/wood edging is slats. Slats are great for concrete or gravel walkways, as they keep both materials in place. This prevents weeds from popping up and roots from intruding on the walkway. 
And if you're worried about your edging longevity, adding a top coat of sealant to the surface prevents water absorption. 
In addition, this coat gives your slat edging added protection.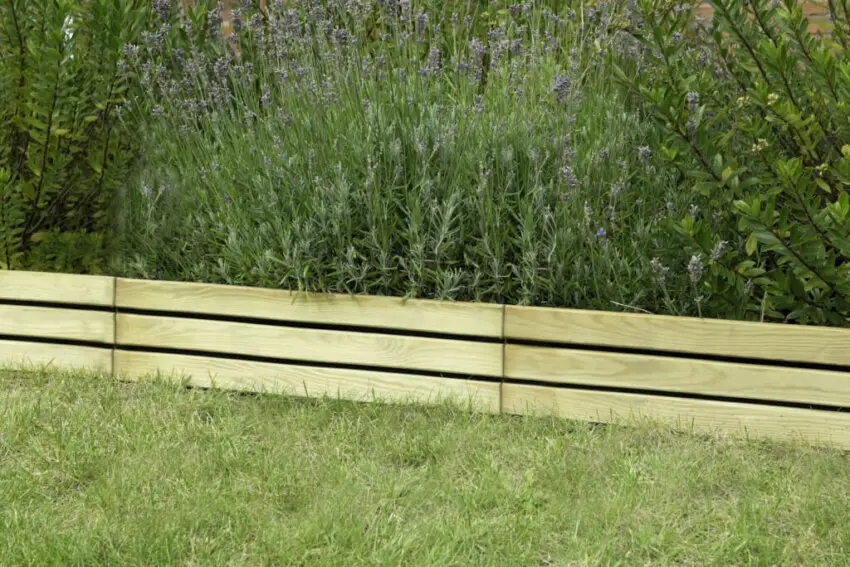 3. Timber Tiles Landscaping Ideas 
Timber tiles are a great choice for homeowners looking to create an organic, natural look. 
From the subtle, classic wood tones of the "Weathered Oak" to the deep hues of the "Pecan" or "Cherrywood," timber tiles are available in a range of color options that complement any landscape design.
They are ideal for raised garden beds, backyard gardening, and large and small backyards.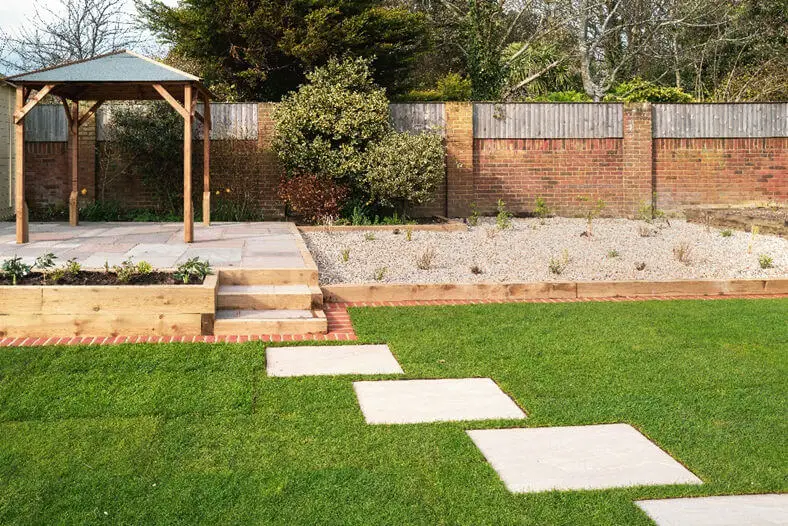 4. Timber Posts With Rails
If you don't want to plant anything in your edging, you can use timber posts with rails. 
The rails give the sense of a fence and provide a great backdrop for your flower garden.
Or you can choose to paint or stain the posts and rails; whatever color you like.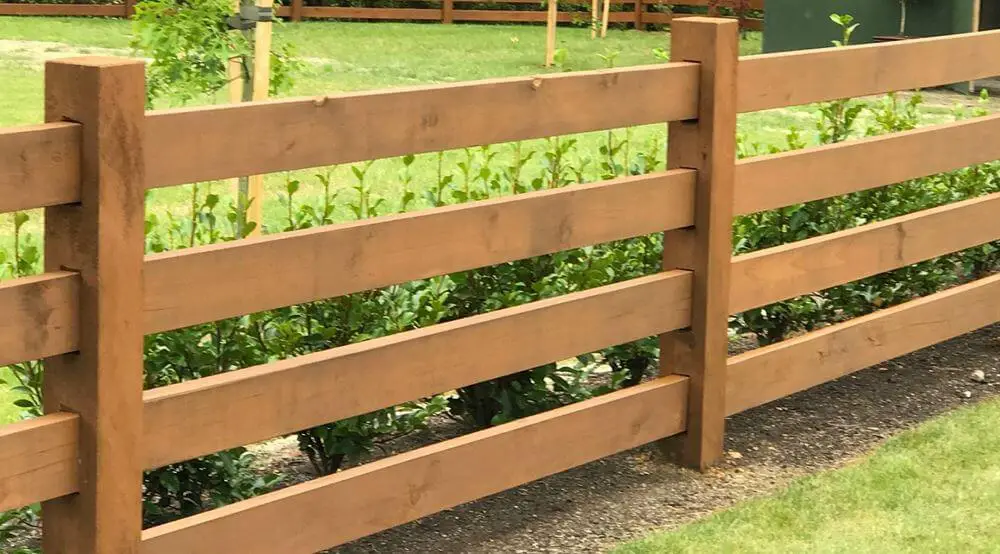 5. Timber Walls With Rails Garden Design
Timber walls with rails are a great way to add a natural, rustic element to your landscape. The railings provide a visual barrier between the lawn and walkway, creating an intimate space that is perfect for relaxing or alfresco dining. 
The timber can come from any type of wood:
Remember, the timber doesn't have to be uniformly straight. You can mix different types of wood to add texture and diversity.
Another way to use timber is by incorporating it into your walkways. Lay it in a random pattern, similar to brick edging, or as vertical planks on the edge of your lawn that connects to the garden flower beds or patio area.
The resultant wooden lawn edging design creates a dramatic look that also adds functionality for wheelchair access.
6. Timber Boxes Design Ideas
Using timber boxes as landscape edging provides a natural yet refined aesthetic. 
Mostly, they work well for borders because they are easily cut to size, and you can create various shapes and styles with them. 
You can also stack boxes to create taller garden borders or utilize them as garden paths.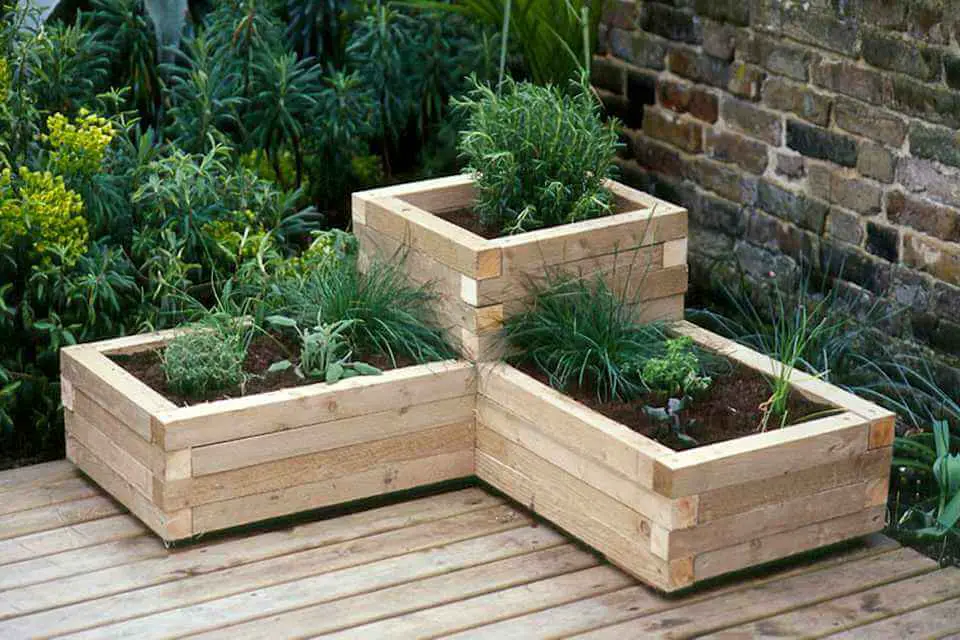 7. Cheap Log Edge Ideas
Logs are an excellent choice if you're looking for a cheap edging option. They are easily available and you can cut them to fit the perimeter of your garden, unlike a brick edging design.
Also, they are easy to install, and you can purchase them cheaply.
There are several ways to use log edging in your landscape design. Depending on your preferences, you can arrange the logs in different patterns to make them more attractive. 
A tip to remember: Landscape timber edging ideas can look beautiful while within your budget. When selecting timber edging, check for UC4 or UC4B code.
If the timber is UC4A, it's safe and acceptable for vegetable gardens and others. You can choose lawn edging timber from home improvement stores for the best results. 
Whether you decide to use pressure-treated or not, you should consider local regulations to ensure it's safe for your children.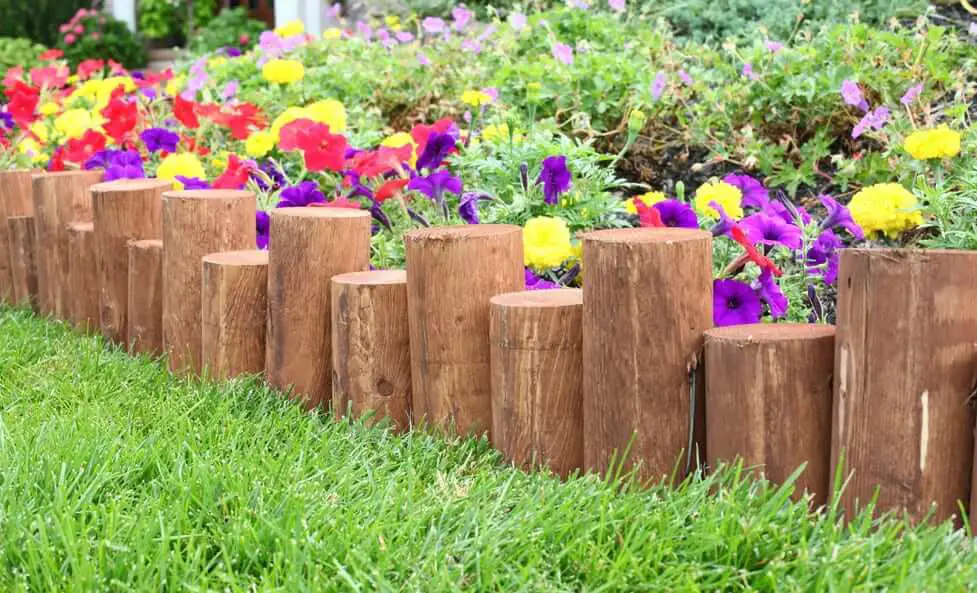 How to Install Timber Garden Edgings in 4 Steps

The process of installing wooden garden edgings is relatively simple. 
Step 1: Firstly, dig a trench and prepare the ground. Then, you'll need to place stakes along the edging to mark its positions. 
Step 2: Once you've set the angle lines, begin installing the timber edging. 
Step 3: Once the edging is in place, the next step is to set the edging material, timber, in the right position. If the timber is positioned improperly, it will roll away from the desired edge.
Depending on the size of your yard, timber edging is the perfect accent to any garden or patio. 
This type of edging is a great way to accent a deck, walkway, or patio.
However, you'll need to follow some rules and precautions to ensure quality landscape timber edging. For instance, you'll need to lay the edging on a level, flat surface to give optimal results. 
Step 4: Use a rubber mallet from Amazon to set the angle of the edging. If the timber is positioned improperly, it will roll away from the desired edge.