One of the most exciting ways to spice up your outdoor living space is using natural flagstone pavers.
Flagstones will give your outdoor area that wild, rustic, and antique look that other pavers cannot. Its appeal makes it a popular choice for many homeowners. Flagstone is indeed the stuff of legends as far as landscape design is concerned.
Still, it takes some creative flagstone patio ideas to add some style and elegance to your property.
Let's check out these incredible backyard flagstone patio ideas to consider during patio installation.
1. Create a Backyard Fireplace
You can make your backyard more appealing by using flagstone to build the fire pit and the patio. A flagstone fire pit ranks high in the hierarchy of unmatched backyard flagstone patio ideas.
Nothing brings people together than the allure of a fire pit in your yard.
It creates the perfect atmosphere for a romantic evening or a night by the campfire with kids. It could also be the best place to share some beers and catch up with friends.
And when you bring out the marshmallows, it becomes an unforgettable night under the stars!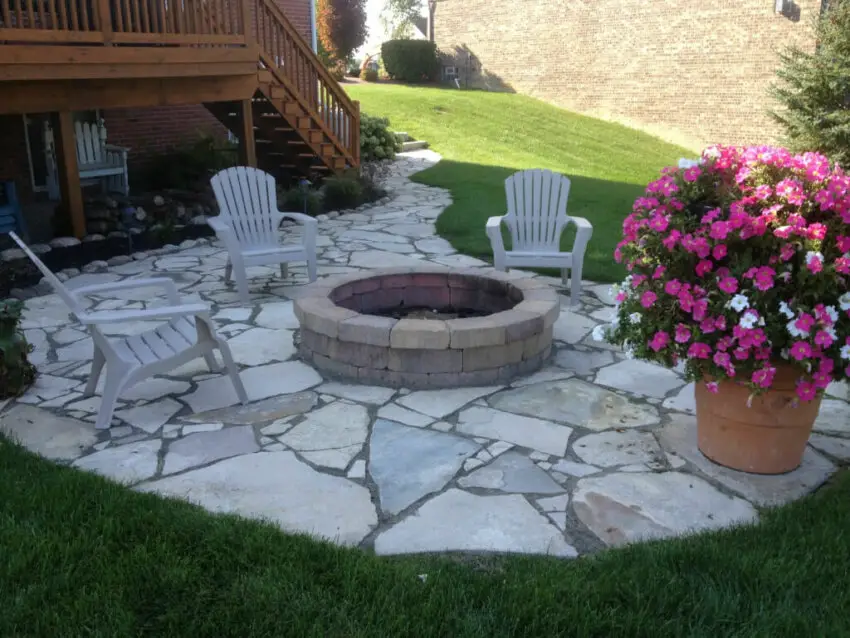 2. Construct a Multi-Level Patio
Is your property on a hill, and it kills you that your patio is just a single level? Wouldn't you give an arm and a leg to add some levels to your backyard?
This is where DIY home improvement juices kick in to install a multi-level patio using flagstone pavers.
To take your landscaping to the next level, you can add one level for a seating area. Then another for outdoor dining. And so on as per your outdoor living needs.
Apply mix and match patio design ideas to develop a stunning, functional, and attractive outdoor space.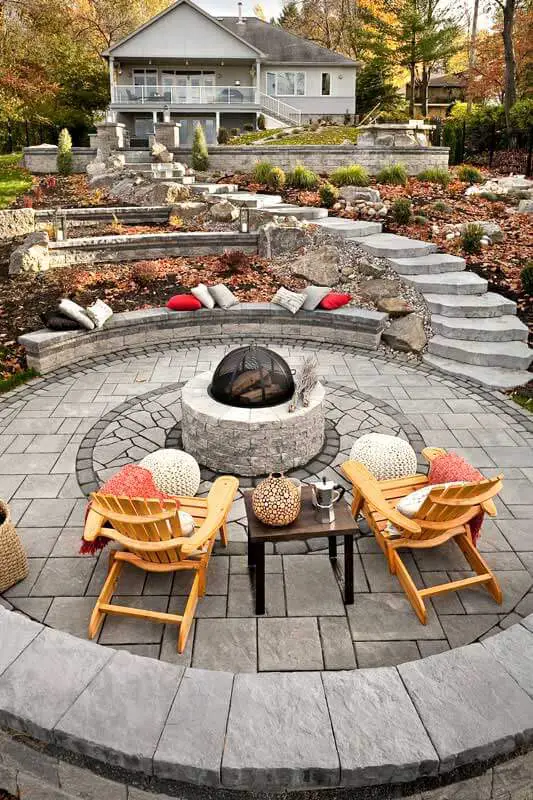 3. Place Some Outdoor Furniture in the Patio
Imagine a beautiful morning with the sun shining on your face. Now, picture a beautiful patio made of colorful flagstone.
All you need to complete the picture is comfortable outdoor furniture, preferably a grandpa chair!
Unrivaled tranquility in your backyard is now within your reach.
You can now lounge the day away with your family as you listen to soft music. Or read that bestseller that has been lying on your bookshelf.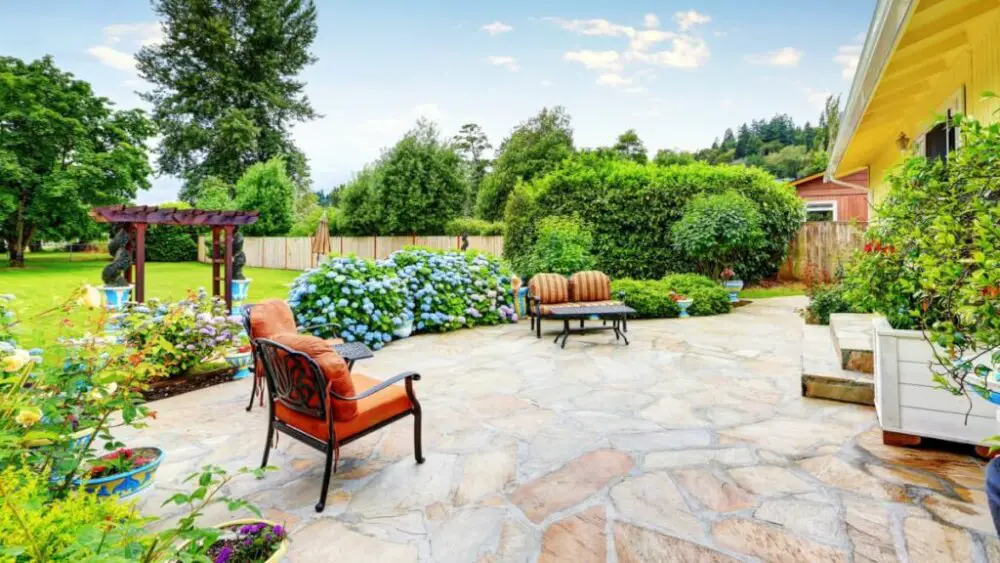 4. Add Some Color to Your Patio
Using flagstone doesn't mean you have to go along with one color. Although you can actualize numerous landscaping ideas with just one color, you can still make your patio colorful with multiple colors.
There are lots of flagstones at your disposal, including bluestones, sandstones, quartzite, and limestone, among others. These natural stones come in an exciting array of colors, from yellowish shades to reddish-brown tints and gray hues.
The trick here is to match the different colors for spectacular flagstone patio ideas to bear fruit.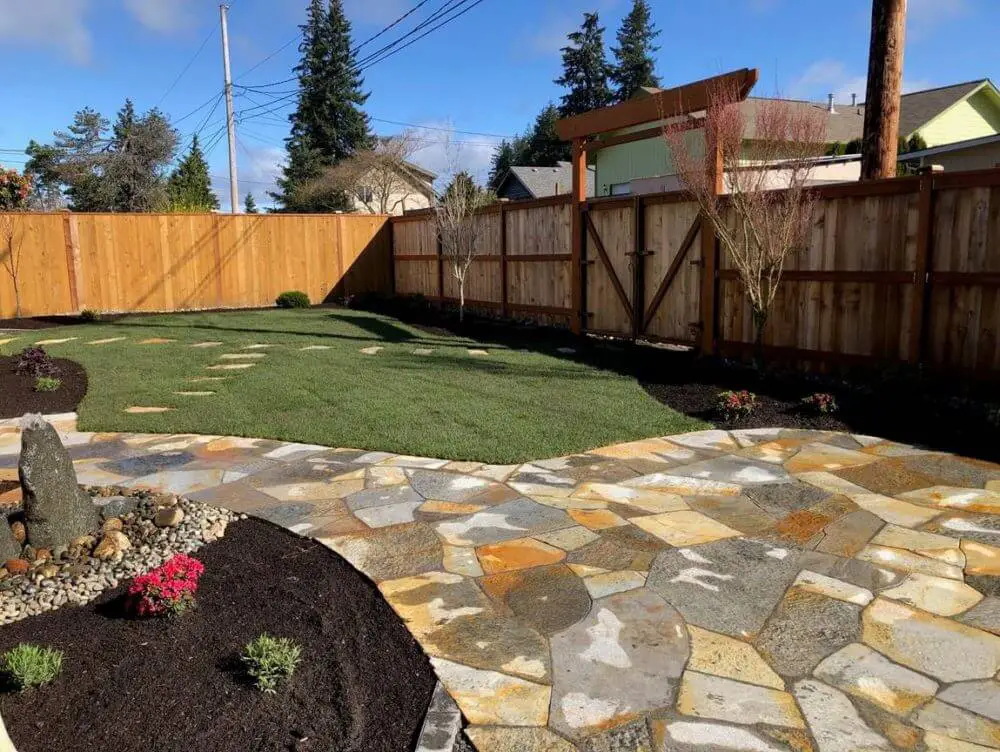 5. Make it a Flagstone Patio Outdoor Kitchen
Flagstone doesn't just come in handy for building your backyard patio flooring. It is also perfect as a building material for your outdoor kitchen.
If you love cooking outdoors for friends and family, this flagstone patio idea is right up your alley.
Apart from the outdoor oven or grill, you can use the flagstones as countertops for your outside kitchen counters, outdoor sinks, and enough cabinet space for storage.
All in all, nothing beats cooking or BBQing in your sunny, rustic flagstone outdoor kitchen while listening to the birds chirping.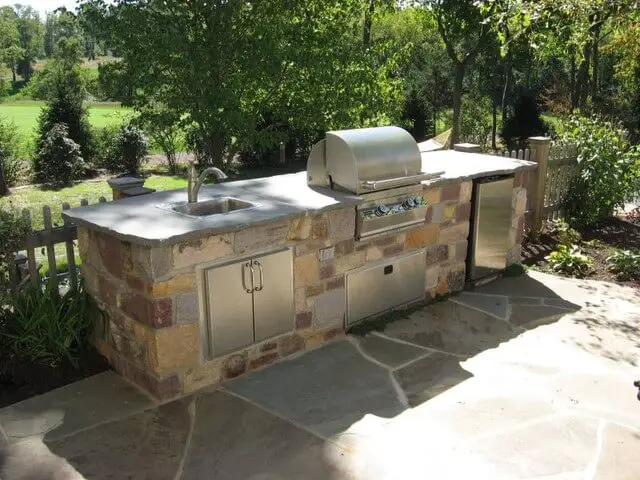 6. Grow Plants Between Flagstones
Sometimes, hardscape can make your outdoors look uninviting and unappealing.
What can you do to soften your flagstone walkway and give it a natural look? This is where you need good backyard flagstone patio ideas. 
You can grow various plants in the tiny openings between your flagstones. Settle for grasses and thyme, baby tears, mint, sedum, moss as ground cover for your stone patio and other plants.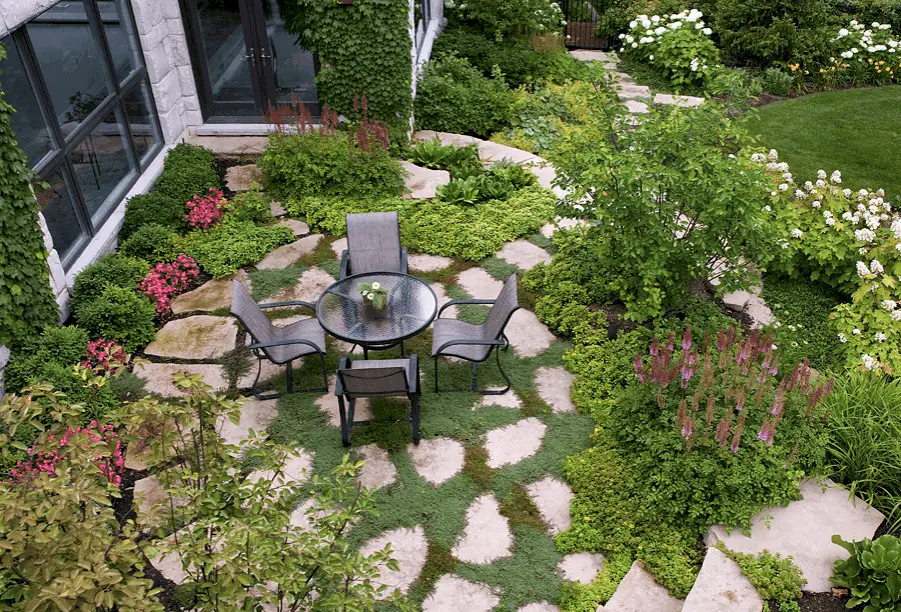 7. Add a Pool to Your Patio
Why not include a pool on the flagstone patio if you feel adventurous? You can sunbathe on the patio in between swimming sessions and generally laze around your pool.
The flagstone will transform your outdoors, not just on the patio and surrounding the pool but also on a hot tub.
Make the flagstone big enough to hold seating areas around the poolside. Most importantly, ensure that the color and design of the flagstone capture the style and decor of the entire pool area.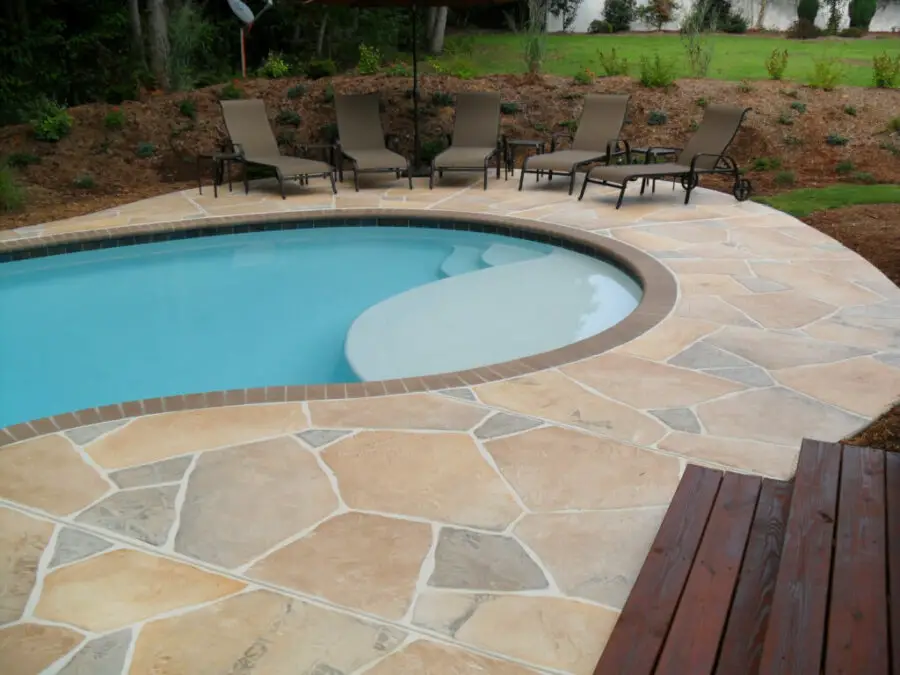 8. Create a Pergola
After building a flagstone patio in your backyard, maybe a pergola is the next best thing to install.
Install a pergola for added elegance and intimacy after laying down beautiful pavers in whatever colors you prefer.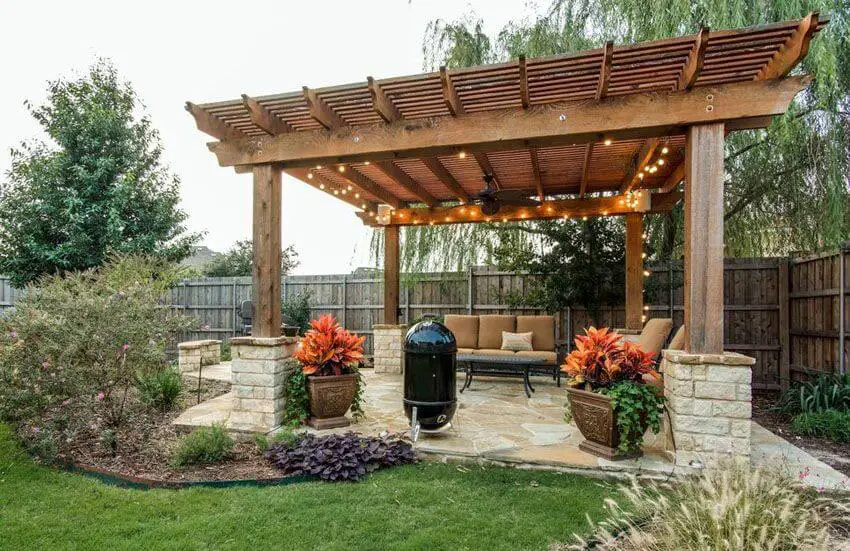 9. Install a Swing
Swings are not only for your porch. You can also add them to your fantastic flagstone patio area. They will not only add a dash of class and elegance to your outdoor space but also provide the perfect opportunity to unwind.
Install a solid swing with comfortable cushions and a piece of patio furniture or two to complete the setup.
Make sure you factor in enough space behind the swing to avoid bumping into furniture or outdoor plants.