Do you have a sloped backyard? If yes, you must be wondering how to transform it into a usable place. A steep slope is perfect for water run-offs, soil erosion, and tillage. Dealing with these issues when making your backyard visually appealing can be a daunting task. 
Landscaping a slope can be difficult and also expensive. As such, you must be on the lookout for tips on doing it on a budget. 
Here are a few cost-effective landscaping ideas you can do on a budget. 
1. Develop a Tiered Retaining Wall
Although landscaping a steep slope is a daunting task, it offers an excellent opportunity to make your backyard visually appealing. One of the best landscaping ideas on a slope is building a tiered retaining wall. 
The wall lets you create several slopes terraces and develop flat planting areas. The plants help make your backyard visually appealing, and it also prevents other issues such as soil erosion. You can use a variety of landscaping elements and plants to enhance the visual appearance of the lawns.
Moreover, you can use various materials to build your retaining walls and maintain a budget. Such materials include wooden posts, concrete, or stone pavers. If you are looking for a durable material for building the walls, stone pavers are the best option. 
Additionally, it is helpful to add a drainage system when building the wall. The drainage system will help prevent the wall from developing cracks or collapsing. Make sure you have a good idea of how to lay landscaping blocks on a slope so that your retaining walls are sturdy and durable.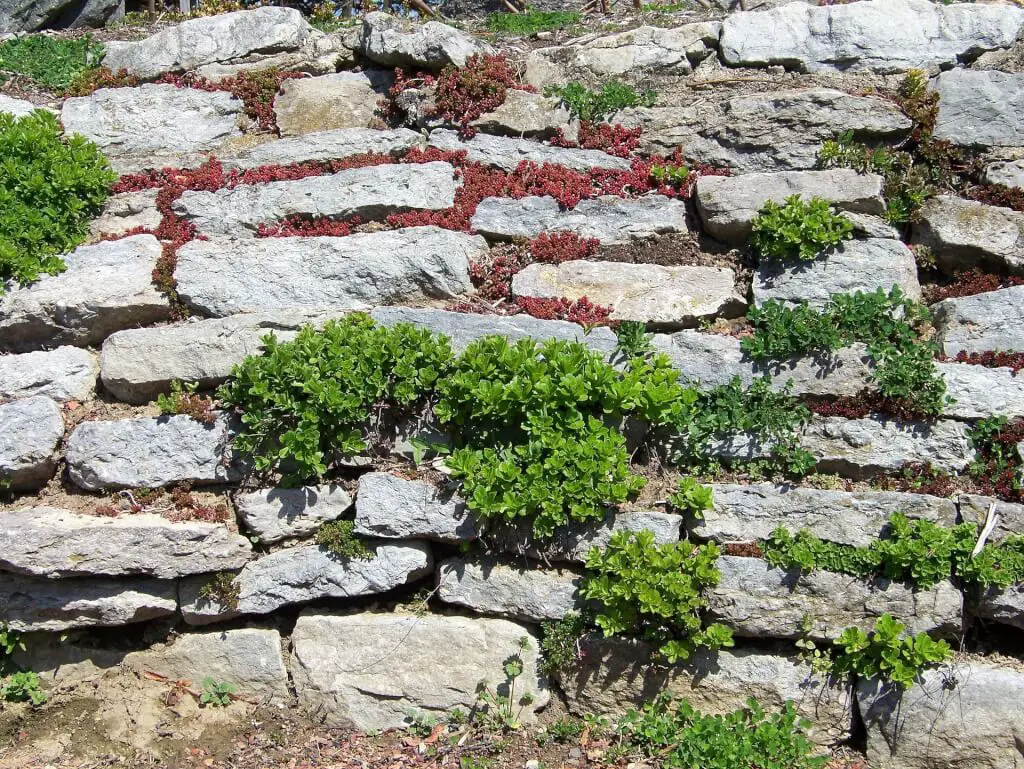 2. Build a Pathway or Stairs 
Building a pathway or hillside steps is another excellent idea for landscaping a steep slope on a budget. 
You can use the idea if you already have enough vegetation in your sloped yard. You can have the pathway or stairs leading to flat ground. 
Some of the materials you can use for making the pathway or stairs include wood and stones, which will help you create a balance in your lawns. 
3. Come Up With a Natural Rock Garden
One of the most widely used methods for landscaping is planting various types of plants on the lawns. The plants help to prevent soil erosion and also make your lawns beautiful. However, plants may not hold firmly on a steep slope, primarily because of erosion and other drainage issues. 
If you don't want to make terracing, you can consider using rocks of various sizes and shapes to help in preventing erosion and allowing your plants to flourish. 
Furthermore, using natural elements such as landscaping stones on a slope helps to give it a natural and unique look that is visually appealing. Natural rocks on your garden slope will also require less maintenance than other types of elements. 
You can also combine the natural rocks with seasonal flowers or other green vegetables. The combination of natural stone steps and plants results in an appealing look.
A natural rock garden is also an excellent idea if landscaping a slight slope.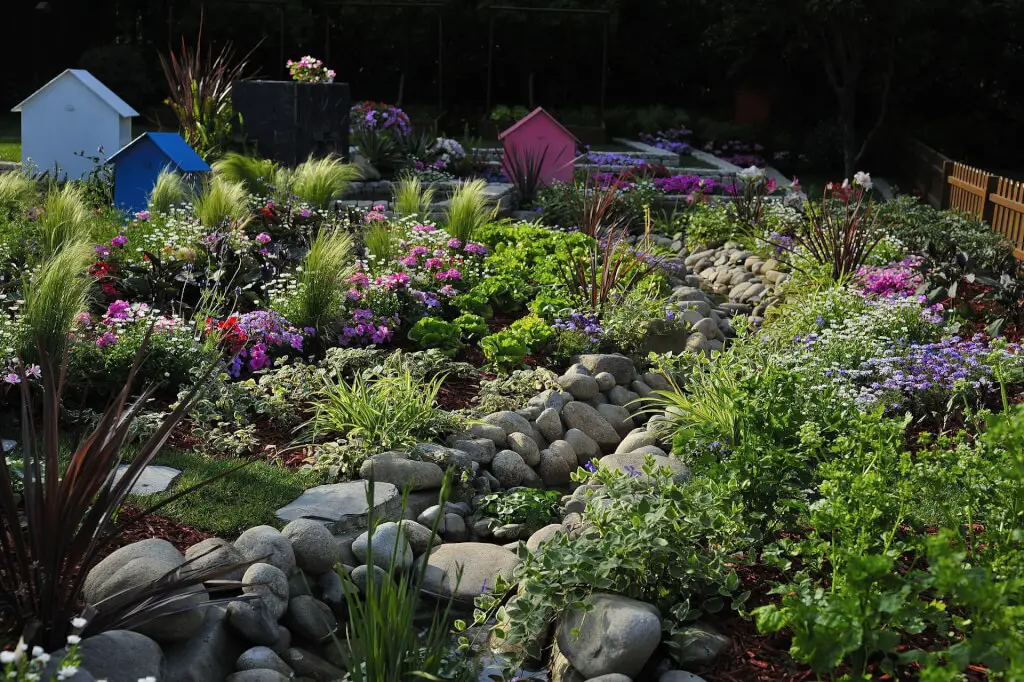 4. Use Groundcover Plants
As mentioned earlier, one of the most significant challenges with landscaping a slope is soil erosion. The topsoil on a steep slope can easily wash off and leave a muddy mess which can be unattractive. 
In that case, it will be best to plant ground cover plants on the slope. 
Various flowers, shrubs, and plants can flourish on a slope, reducing the chances of erosion and making the yard look beautiful. If the soil on the hill doesn't have the necessary nutrients to help the plants establish, you can consider adding more soil and an erosion mat.   
5. Build a Vegetable Garden  
Does your backyard get enough sunlight? If yes, why don't you take advantage of that and grow a sloped garden?
You can have some root vegetables on the deeper end and herbs on the shallow portion of the slope. 
Some of the materials you can use to create a vegetable garden include crates or wooden boxes. You can arrange them in a stair-case manner on the slope. 
6. Landscaping Using Boulders
Landscaping with boulders on a slope is another excellent idea of transforming your backyard on a budget. Boulders of varying sizes will make your yard attractive and enhance its functionality. 
You can randomly place a few boulders in the garden or combine them with smaller rocks and succulents. You can also consider adding drought-resistant plants to create a beautiful garden and prevent soil erosion. 
If the slope in your backyard already has some boulders, you can find a way to incorporate them in your hillside landscaping ideas instead of trying to dig them out.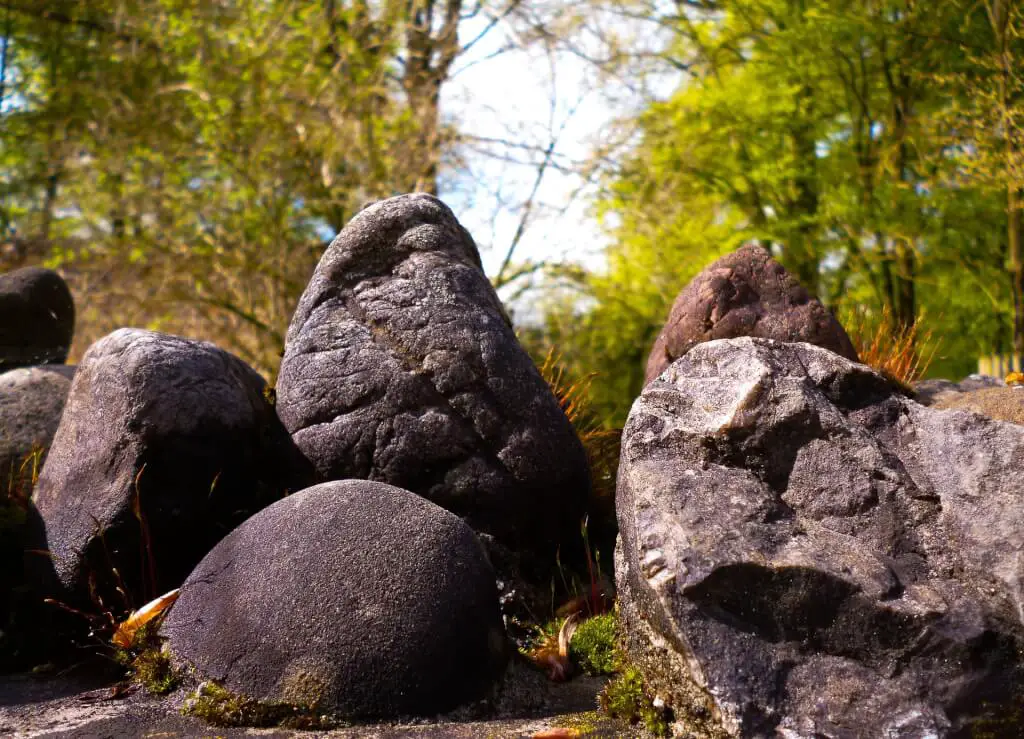 7. Railroad Ties 
Like landscaping stones on a slope, railroad ties also have several functions in a garden. For instance, they can come in handy in building terraces, barriers, retaining walls, or stairs. If you want to make slip-resistant stairs, you can use the ties to make frames and fill them using gravel. 
However, it would be best to avoid railroads in herb and vegetable gardening as they have a toxic preservative known as creosote.  
8. Use Watering Cans  
Are you still looking for the most affordable ideas for landscaping a slope near a house? How about using watering cans. 
Using watering cans enables you to come up with a semblance of a water feature in your garden without incurring the cost of building a real one. 
Ensure you arrange the watering cans in an orderly manner on the slope. Additionally, the cans should feature a long spout. The spout will enable water to flow from the top to the bottom in descending order. The bottom water can pool the water. 
9. Create Small Artificial Waterfalls  
Most of the time, you'll find natural waterfalls on steep slopes and hills. You can use the same idea to make your steep backyard usable. Creating an artificial waterfall will make proper use of the space. 
The artificial waterfall will create an appealing effect on the steep backyard. Additionally, the view and sound of the water cascading down the steep slope offer a soothing effect, and they are satisfying for nature lovers.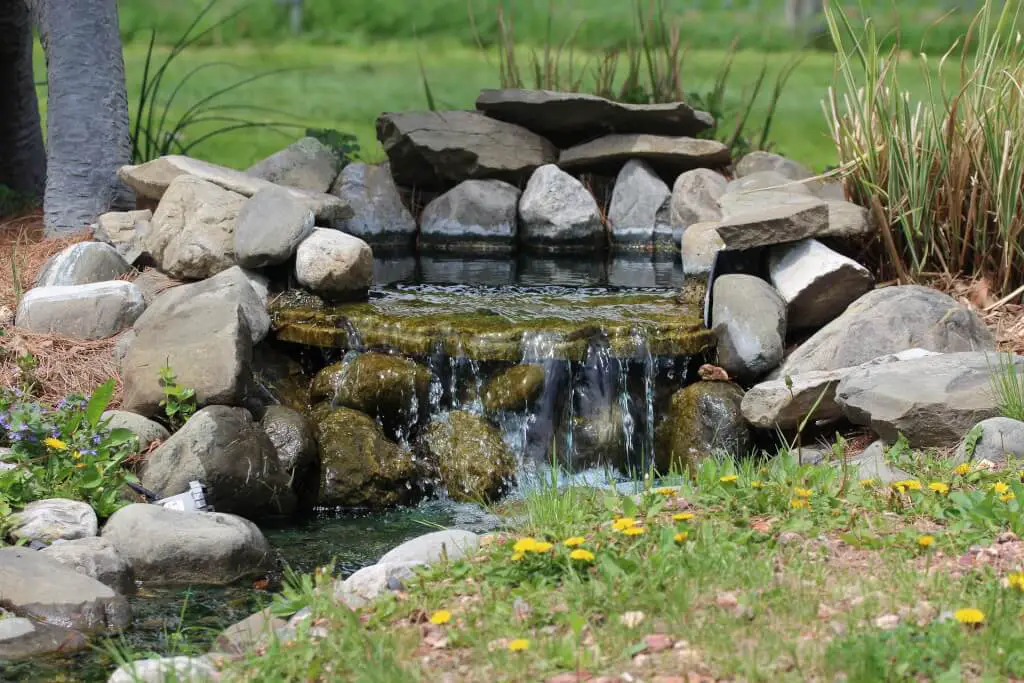 Conclusion
If you have a slope in your backyard, it'll be an excellent idea to landscape it to enhance its functionality and looks. Landscaping the slope also helps deal with soil erosion and other drainage issues. However, landscaping a steep slope can be expensive. The best cost-effective landscape design depends more on the layout of your sloped backyard, as well as your own personal taste.