A sloping garden can pose a real headache for your landscape design. What's with water run-offs, soil erosion, and challenging tillage.
BUT….
It's not all doom and gloom.
We have excellent sloped backyard ideas on a budget for your outdoor space. And all you need to transform your sloped land is to have the right design ideas.
Let's dive right in and learn about sloped backyard landscaping ideas on a budget.
1. Ground Cover is the Way to Go
Ground cover is a godsend as far as dealing with water run-off challenges in your beautiful garden is concerned.
That's not all.
Ground cover ranks among the best hillside landscaping ideas on a budget to add color and life to your sloped yard. For stunning results, settle for an array of different-colored plants for your flower garden. 
To be on the safe side, go for low-maintenance ground cover plants suitable for your region's climate and soil.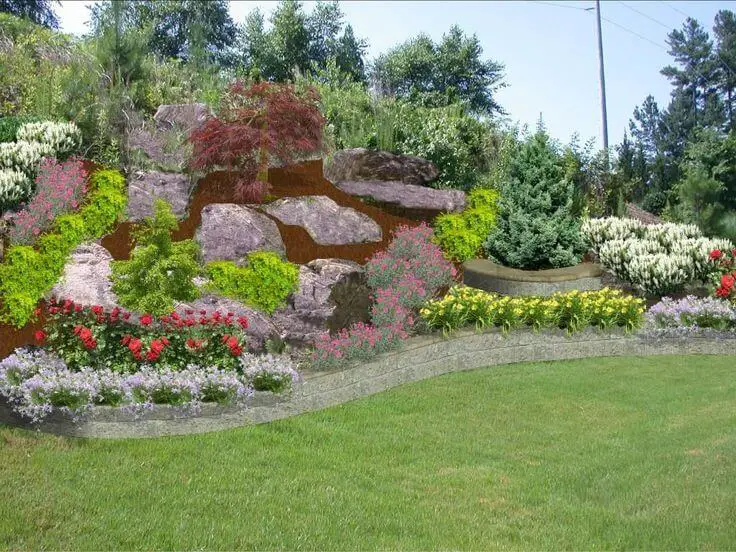 2. Small Waterfalls Add Aesthetics
No sloping front yard worth writing home about should lack a waterfall.
Building a DIY artificial waterfall becomes even easier if your land is sloped.
Waterfalls are the ultimate landscaping game-changers. Even the plainest yard will look beautiful with a waterfall, regardless of the size.
Apart from the heavenly transformation, nothing beats the delightful sound of water flowing down the slope.
3. Install a Water Feature
One of the best aspects of having a sloped backyard garden is that water flows downhill! 
This makes the backyard ideal for a water feature, which acts as the focal point of your landscaping.
Now that we are all about sloped backyard ideas on a budget, what if you can't afford a pool or fountain?
Well, all is not lost.
You can bring out your creative side and let those juices flow by creating a descending watering can water feature. It's not only inexpensive but extremely innovative and eye-catching.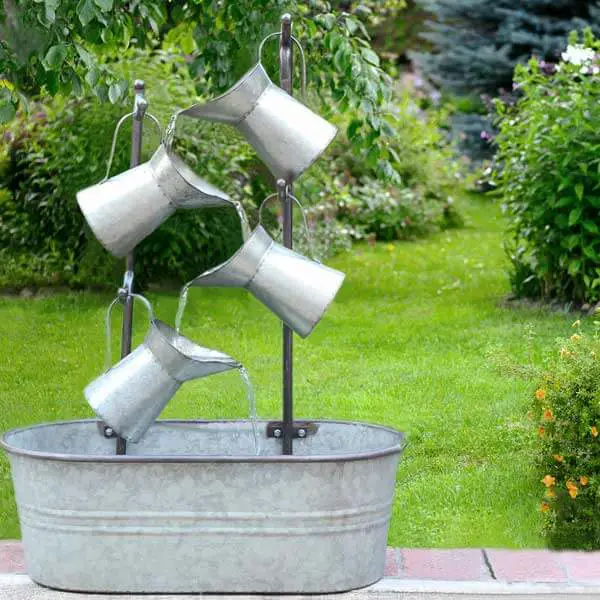 4. Build a Destination Fire Pit
A fire pit ranks high among unmatched hillside landscaping ideas on a budget. A hardscape such as a strategically placed fire pit is an imaginative way of bringing friends and family together.
Whether it's barbecues or peaceful evenings under the stars, the fire pit will be a favorite spot on your property.
You can take it to the next level by adding outdoor furniture, comfortable cushions, and outdoor lighting leading up to the fire pit.
5. Lay a Winding Pathway
Creating winding paths in your sloped garden comes in handy in so many ways. One is the sheer beauty and character that it gives your outdoor space.
Also, a winding path helps people to navigate the steep slopes effortlessly with minimal danger of sliding and falling.
Most importantly, laying meandering paths is a top-notch steep sloped backyard idea on a budget that offers homeowners a focal point for their landscape.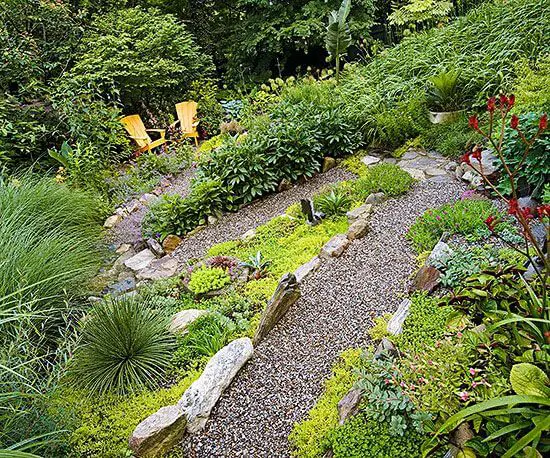 6. Create a Natural Rock Garden
A natural rock garden is another brilliant sloped backyard makeover idea for your sloped outdoor space. Well-placed rocks will add tons of character to your sloped yard.
To pull off this landscape design idea, go for rocks of varying sizes and shapes.
Introduce rock-loving plants such as ornamental grass, creeping ground covers, and stone-crop for that extra touch.
By incorporating natural stones and plants, you'll come up with an incredible look that'll enhance your property's curb appeal.
What's more, you'll prevent soil erosion, and the different flowers and herbs will bring tantalizing scents to your outdoors.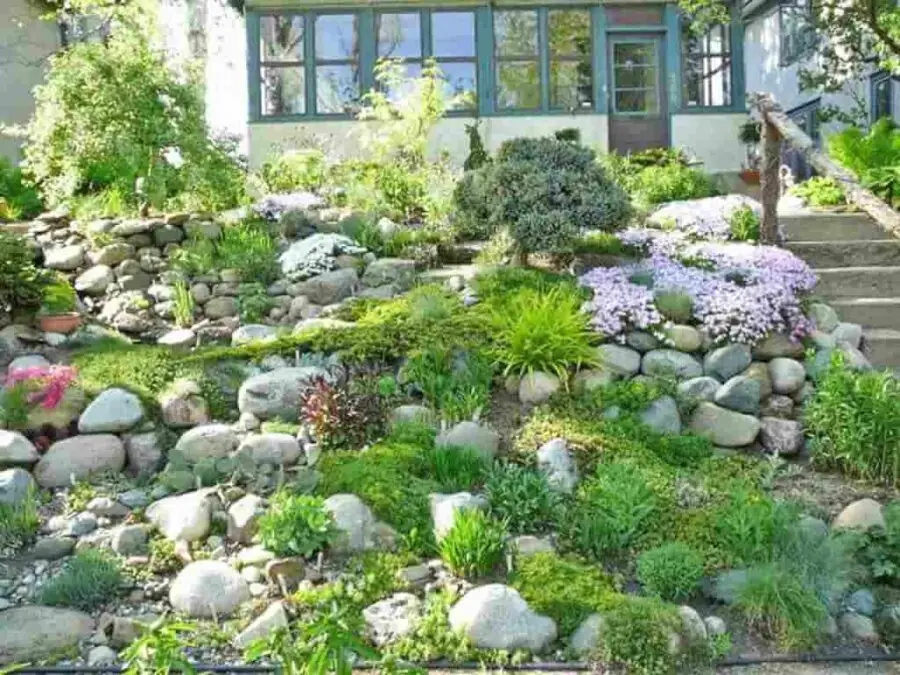 7. Plant Vegetable Gardens
Say your sloping yard receives enough sunlight; what's stopping you from installing raised garden beds for growing your favorite veggies?
Imagine crates or wooden boxes filled with vegetables, arranged like a staircase down your sloped grounds?
You can grow herbs in the shallow areas of the beds and leave the deeper parts for root vegetables.
8. Incorporate a Children's Play Area
Sloped backyard patio ideas should keep the whole family in mind, right? 
One great way of doing that is incorporating a children's play area into your outdoor space, complete with slides and other fun features.
Luckily, you can effortlessly add a play area without compromising your outdoor home décor.
Best of all, instead of the sloped ground working against you, it works in your favor! A longer slope translates to a longer slide, the perfect outdoor game for kids.
9. Create a Tiered Retaining Wall
You can make a sloped backyard landscaping statement by creating tiered retaining walls. These retaining wall sloped backyard ideas on a budget involve making flat surfaces through terracing parts of your sloping yard.
While stone pavers are the best materials for retaining walls, you can also use wooden posts or concrete.
The flat areas are perfect as planting areas where you can have your pick of flowers and other greenery to complete the look.
Remember to install the retaining wall according to your budget and available space. And don't forget to install a drainage system behind the wall to prevent collapsing.