For a long time, tree swings used to be associated with kids. Now, it's pretty normal to find adults having the time of their lives on their backyard swings. Tree swings are the ideal relaxing places where you can unwind and enjoy your outdoors in peace.
Tree swings for adults come in an impressive array of types, sizes, and shapes. From wood tree swings to tire swings and platform tree swings; the list is jaw-dropping! 
Below, we have put together a list of the best tree swings for adults, geared to give your whole family an experience of a lifetime.
1. Wooden Rope Swing
The wooden rope tree swing is still one of the best classic examples of outdoor tree swings. It's unbelievably easy to install.
All you need is strong hanging ropes, a sturdy tree branch, a tree swing seat, and you're good to go.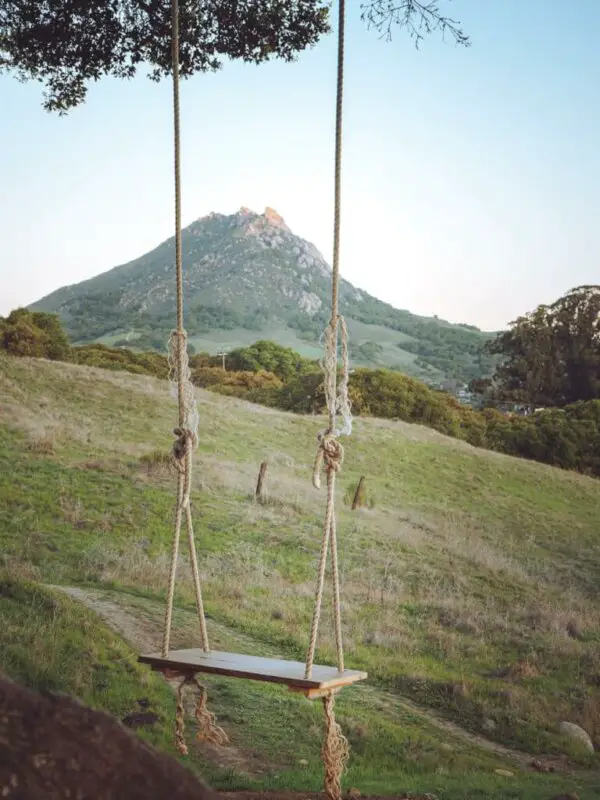 2. Spider Net Swings
Spider web tree swings are incredibly sturdy. They are easily the most common type of adult swing in many backyards and playgrounds. Moreover, the weight limit of spider net swings is impressive, comfortably accommodating up to 400 pounds!
DIY tree swings for adults don't come better than this. All you need is a stainless steel/plastic hoop, heavy-duty nylon ropes, and some basic skills.
Nevertheless, if DIY is not your thing, you'll be glad to know they are available on Amazon and other playground stores.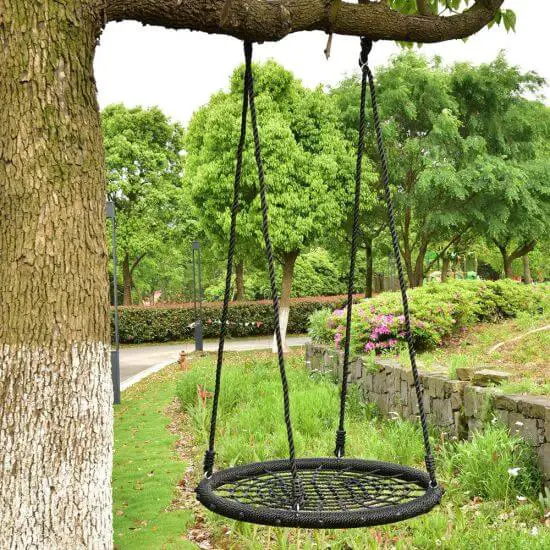 3. Tire Swings
As far as affordable DIY tree swings for adults go, tire swings are a popular choice. Replacing the rope with a chain diminishes some of the traditional appeal. However, it lends the swing more strength and needs minimal maintenance.
If you want something slightly different, you can fasten the tire with a single rope instead of the normal two. The tree straps hold the tire vertically rather than the usual horizontal position, making the swinging more adventurous.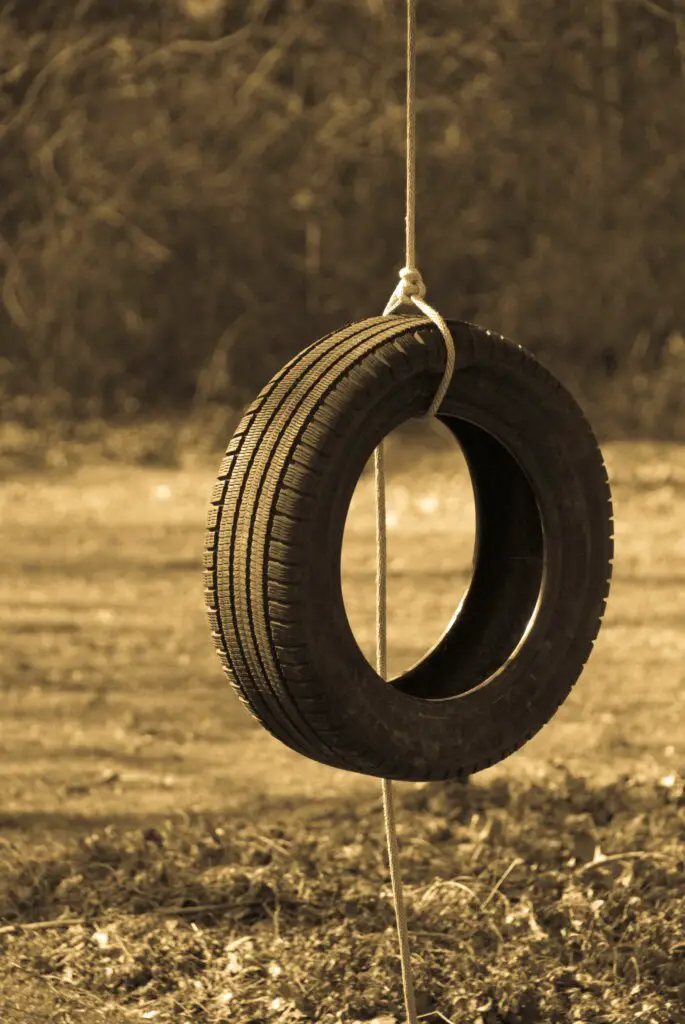 4. Palm Tree Swings
Suppose you live on the beach or near the ocean with palm trees dotting your outdoor space. Do you know that palm trees are great for outdoor tree swings for adults?
All you have to do is attach a sturdy rope to the palm tree and hook it to a wooden seat or table.
With the soft sea breeze soothing your face and the endless ocean before you, this is one special experience you can't afford to miss.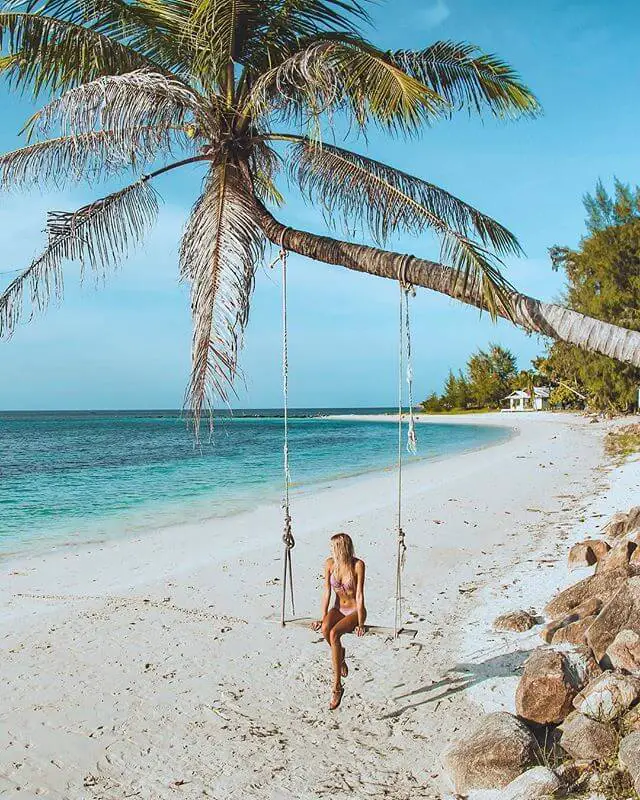 5. The Hammock Swing
Some tree swings are for pure adrenaline-filled fun, while others are ideal for relaxation. Hammock chair swings undoubtedly fall into the latter category. Pretty comfortable and easy to install, hammock swings are the perfect choice for those looking for an afternoon nap in the open.
These swings are simple to make, and compared to other outdoor swings; they don't require much motion. As long as the hanging ropes are fastened expertly to the tree to handle any weight capacity, you just need to rock the swing gently to start you off. 
The best part about the hammock swing is that it is portable with adjustable ropes. Meaning you can change the setting by choosing different trees for different days.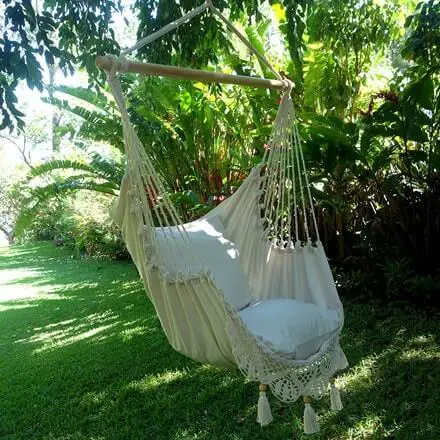 6. Tree Swing Tree House
If your backyard features a treehouse and you need an out-of-the-ordinary tree swing, it's your lucky day. A treehouse coupled with a kid's swing will give your children a fantastic experience. When not playing in the treehouse, they can just switch to swinging.
And if you are not too big, you can be part of the kids' outdoor heaven!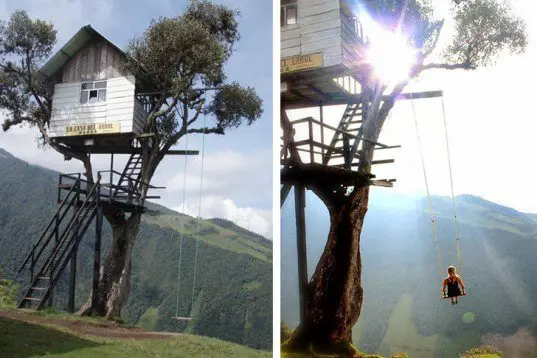 7. The Wooden Chair Swing
Are you feeling creative? Then why not put your creative juices to work and transform your wooden chair into a wooden tree swing? It is super affordable since you'll recycle your old chair and have an eye-catching swing in no time. 
You'll only need to dislodge the legs, fasten ropes to the chair, and attach the other ends of the rope to the tree. Also, you can paint the chair for the ultimate multi-color finish.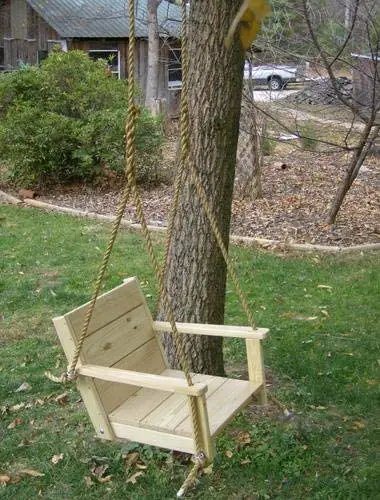 8. Disc Swings
A disc swing is another exemplary outdoor idea designed to give you the perfect relaxing place. Remember that disc swings are everything about altitude and less about relaxing. 
Disc swings have more than 200 pounds weight limit ensuring your whole family can have a blast. With the right materials, disc swings are super cool DIY projects, and they are easy to make.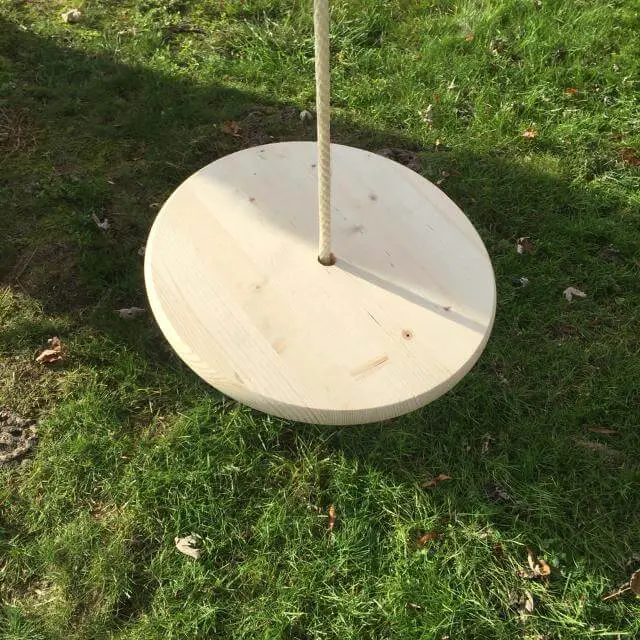 9. Flying Saucer Swing
Nothing can beat the feeling of the wind whipping at your face while on a flying saucer tree swing. These swings are one of the safest rides available. They comprise a strong steel frame, boasting a high-quality oxford fabric for enhanced comfort. 
What's more, the flying saucer swings have a wide seating area, some with an up to 40-inch diameter swing seat to accommodate even the biggest of adults!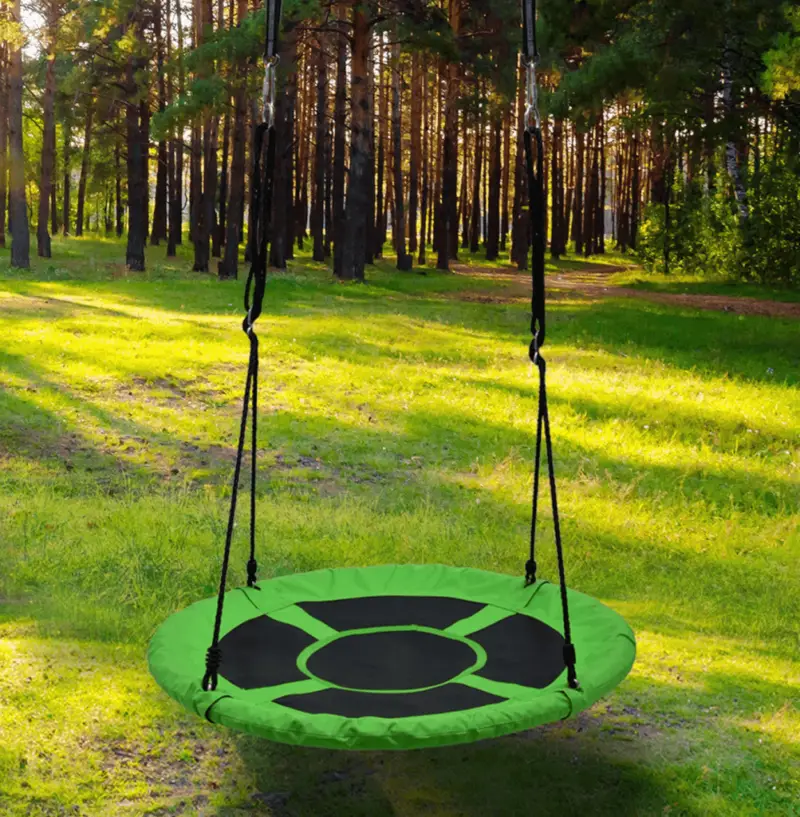 10. Rope Swing
If there are trees next to a pond or small lake on your property and you need a swing, you're already halfway there. Rope swings are not only easy to make (you only need a long knotted hanging rope), they are an enjoyable pastime.
You can spend summer swinging into the lake as many times as you can.
11. DIY Plastic Box Swing
What if you are on a tight budget, but you still need to suspend a swing from your tree? You simply settle for a DIY plastic box swing. It is pretty easy to install, and most importantly, it takes surprisingly little time. Just look for a large, old, but strong fruit box and some hanging straps.
For added comfort, some cushions will come in handy.