A garden is about more than just planting flowers and vegetables. It's about transforming your home into a space with a feeling of enchantment. Shapes, colors, textures, and materials have different meanings and associations. 
Are you looking for an easy way to spruce up your household? Consider putting gnomes in your garden. 
You can add them directly, keep them on your patio table, or create a mini gnome garden. 
Here are 7 gorgeous gnome garden ideas you can use.
Adorable Outdoor Gnome Garden Ideas 
If you want to create a gnome village, here are 7 DIY gnome garden ideas to inspire you.
1. Tree Houses
Treehouses are a wonderful playhouse for children and whimsy for those with land to spare. They are often used as alternative housing, but they can be the perfect home for gnomes in your garden. 
You can build multi-level treehouse structures with small windows, doors, stairs, and bridges connecting trees, hedges, or flowerbeds. Treehouses are especially fun with spiral staircases, rope bridges, and unusual roofs. 
Additionally, tree houses could look as rustic as the surrounding trees or as modern as your child's imagination. Just make sure the house is high enough in the tree for a child to stand up and play.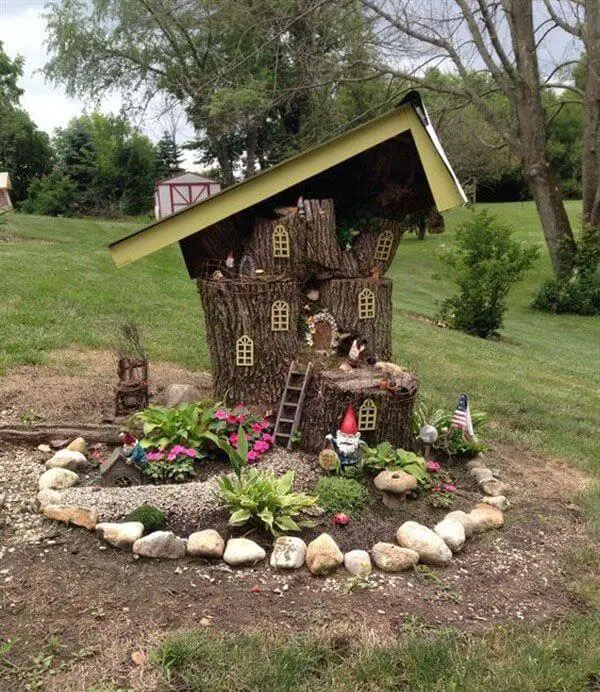 2. Fairy Village
Fairies are often represented in gardens, so why not have a traditional fairy village? They are gardens with miniature houses for fairies to "live" in. Creating your little hobbit-hole fairies with gardens would be both fun and interactive with your children. 
Build small fairy houses out of rocks, driftwood, small branches, and moss. Use twigs to make the roofs. 
However, if you want a more professional look, mix cement for building fairy houses or purchase pre-built models from Amazon that are ready to decorate upon delivery.
You can find helpful tutorials on Pinterest for small/large gnome garden ideas or fairy gnome garden ideas.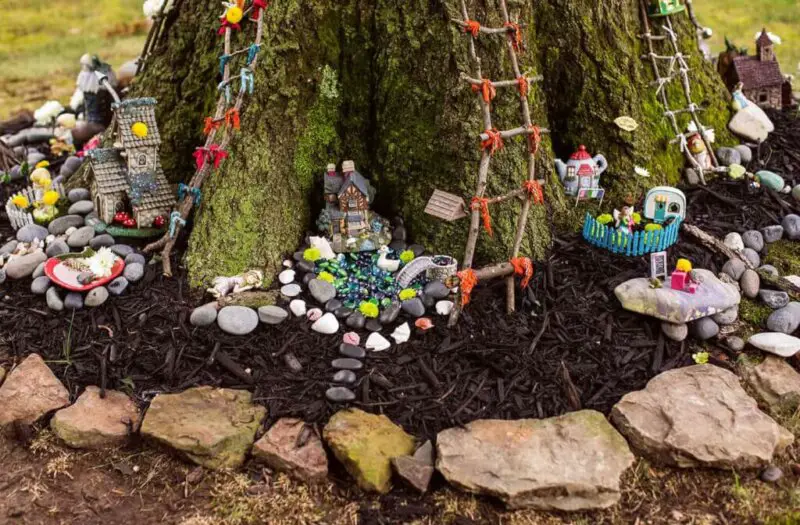 3. Gnome Garden Paths and Bridges
Gnome paths are easy to make. Simply find a suitable and even area of your garden and lay down simple gravel or mulch for walkways. Add some stepping stones to break up the lines. Paint small gnomes on rocks, set them along the path, and place lily pads around in the water.
Also, gnomes love to live underneath beautiful bridges. You can build your bridges from wood, bricks, rocks, or sticks. For a natural look, use tree branches as the support beams under the bridge.
Mix water with green acrylic paint and apply it to the bridge's surface before placing natural moss on top to make a mossy appearance.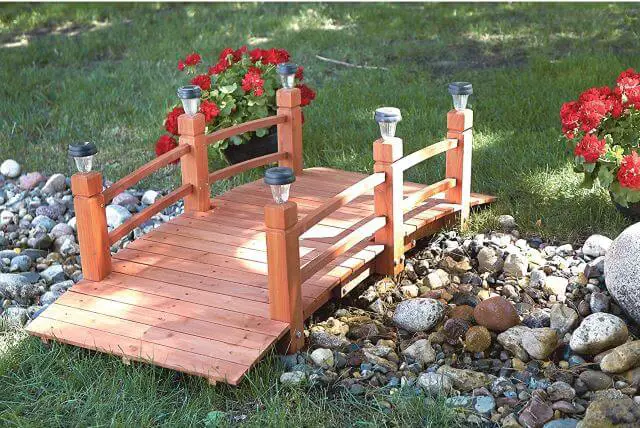 4. Fences and Walls
Gnomes can also live in flower beds, between tree trunks, and even inside large garden urns. To keep them safe from wandering animals and people, you should surround the fairy village with fences made of sticks, twigs, or small branches. You can tie twine between them to make the fence look more decorative.
Also, stone walls are great for dividing your garden into different sections. They can create a particular feeling, like a maze or secret garden area that is only accessible through an archway in the wall. 
You can also use trellises and other garden features along these walls to make them look more intentional and natural.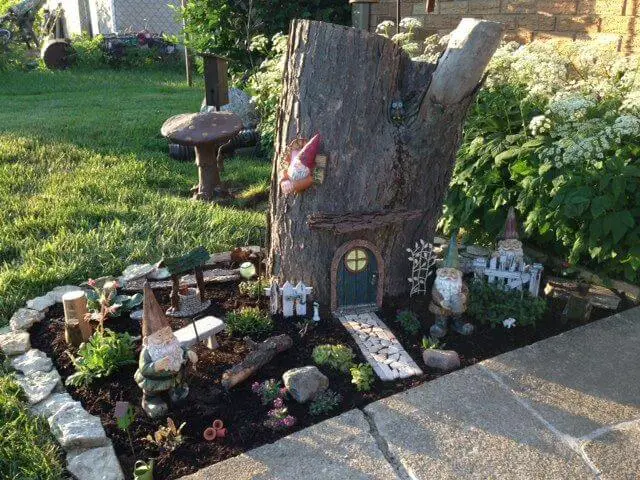 5. Stone Gnomes, Ornaments, and Sculptures
There are many different kinds of garden gnomes on the market to choose from, including human-sized creatures that stand in the flowerbeds. You can also purchase small figurines made out of stone or ceramic for a decorative touch.
Different garden ornaments add amusing characters to your gnome village. Metal statues, small fountains, birdhouses, and other decor that you wouldn't usually see in a traditional garden can add fantasy into the mix.
You can also paint various items to make them stand out from their surroundings.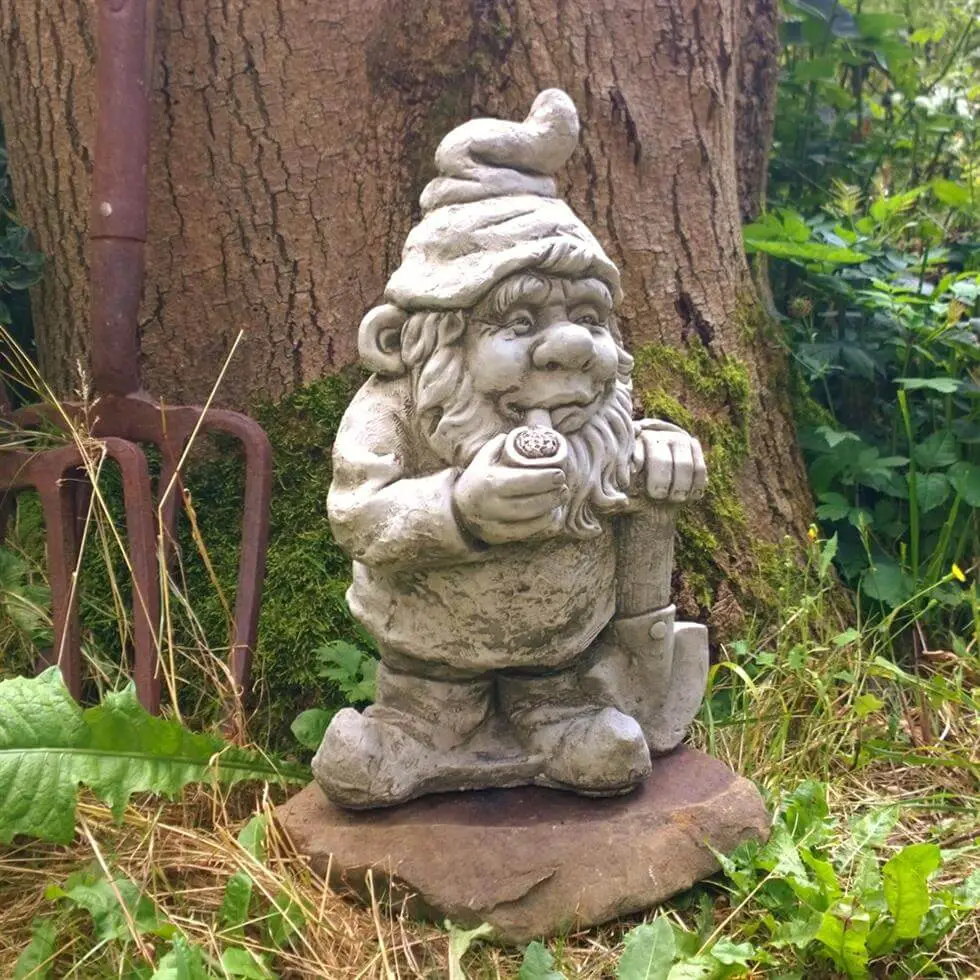 6. Garden Vases and Pots
You can decorate your fairy village by placing flowerpots inside the houses and the surroundings. Flowers, shrubs, and vines can grow inside these gardens since they live in moist environments. You should also consider placing real flowers in garden vases around the houses for a touch of beauty. 
Also, potted plants can add color and life to your gardens, such as lining walkways or defining certain areas like seating nooks or play spaces. You can also use small gnome homes and furniture with potted plants for more interaction and thought into your garden.
7. Gnome Homes For Inside the House
Depending on the reference culture, gnomes are depicted as living in mushrooms or underneath rocks. Build these smaller versions of wood, twigs, and stone to make your fairy garden. Or, if you want your garden indoors, place it in a glass jar or use fake plants to make it look like it's magically glowing.
You can also decorate your gnome homes with accessories and accents such as pots of mushrooms, wheelbarrows, and wheelbarrow statues.
Consider adding a wheelbarrow to the fairy garden for an extra touch of creativity and originality. You can also build additional tiny gnome houses out of stones for more creative options.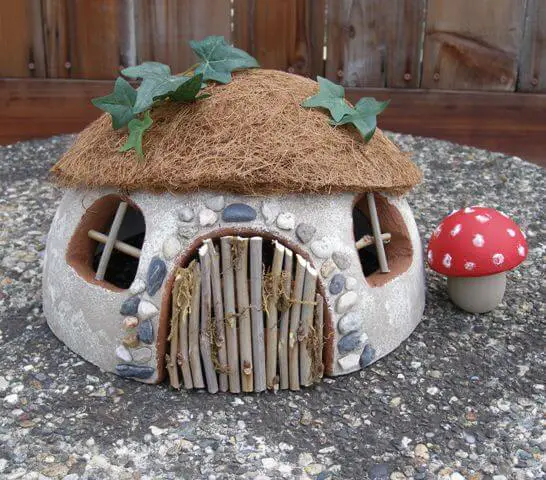 How To Make a Gnome Garden in 9 Easy Steps 
 The first step in creating a charming gnome village is to have a plan. It's easiest if you have a sketch of your garden before starting so that you know what space you'll be using and what will fit in it.
Next, level the ground. If necessary, lay down landscaping fabric or a thick layer of mulch to discourage weeds and grass from growing in the garden.
Prepare a circular or oval flower bed by raking and leveling. Then add your soil about four inches deep. 
With the plants ready and the ground prepared, it's time to choose a spot for your gnome home. Start by looking at the size of the gnome home you're creating, adding in space for paths and clearings. 
Figure out where to place your path by deciding where you want your front door or entry point. Then work out the way around any pieces you plan on adding to the village.
Decide where the first gnome house should go, then space out other houses throughout the garden accordingly.
Now it's time for garden decor! Add accents like statues, birdbaths, and garden accessories. Then add your succulents.
To finish off your micro-garden, give it a little extra earth with some mulch or cover it up with rocks. Don't forget to add some weatherproof furniture for your tiny friends to enjoy!
Now you're all done! Sit back and let the fun begin!
Take Away 
You can make your front lawn into a charming space with the best gnome garden ideas. Just be sure to make use of correct gardening concepts. If you lack enough garden to do the planting, be sure to set up a miniature cute fairy garden.
The gnome gardening concept comes with endless design ideas to spark your imagination. Grab your materials and start making your gnome village garden today.